Master Wine Sommelier Joao Pires
For a shoot for TK magazine of Master Wine Sommelier Joao Prires I wanted to create a photo different from the typical shot of a wine expert holding a glass of wine. Upon learning that Joao is one of only 229 master sommeliers in the world I figured that in order to gain such status the man must have consumed a fair number of glasses of wine. With that in mind I set forth to create an image that could help illustrate this concept. The shoot took place in the Jade Dragon restaurant located in the City of Dreams Macau. Joao oversees the wine for all the dining venues at the City of Dreams, the Altira Hotel and recently opened Studio City Resort which are all part of Melco Crown Entertainment.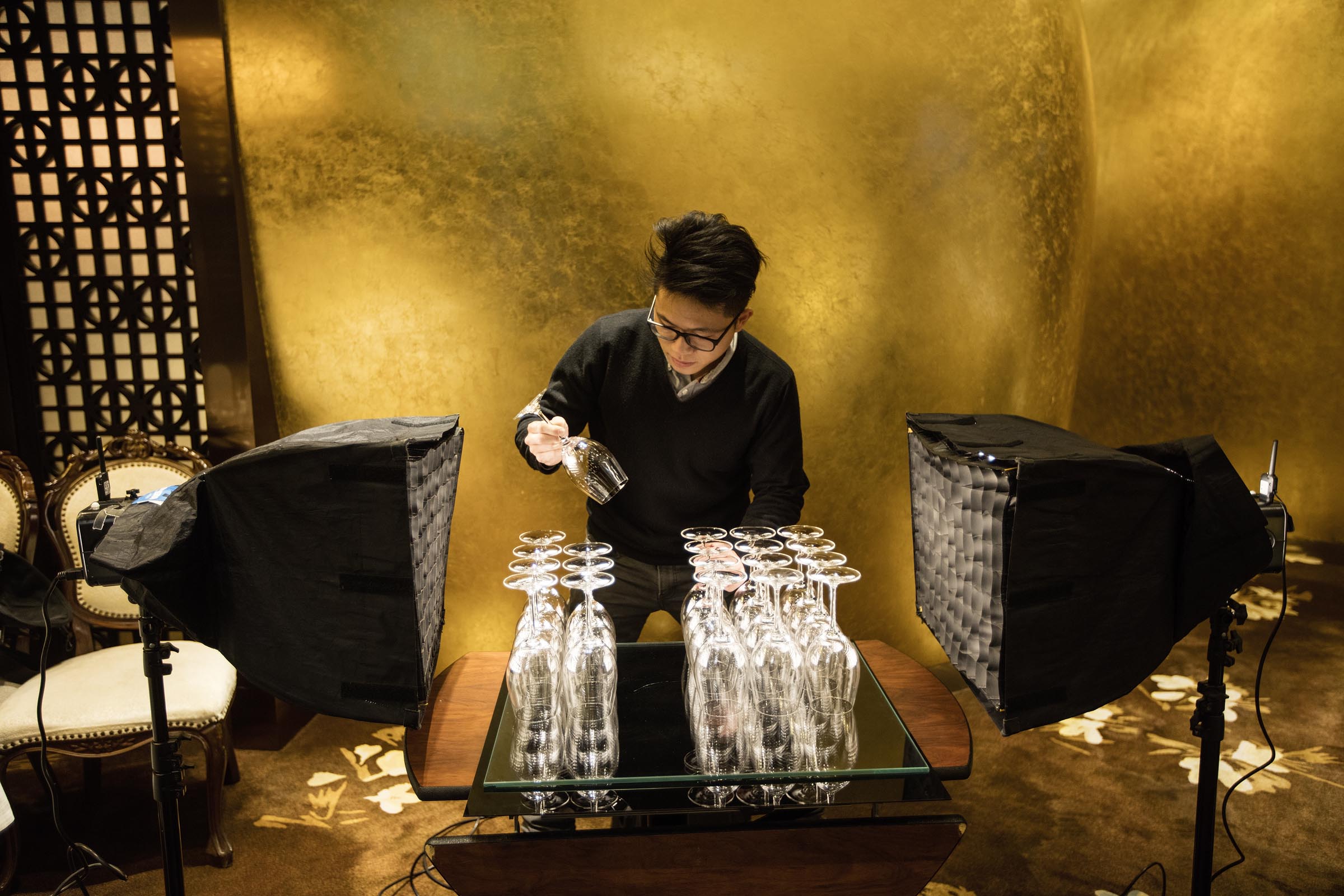 Upon arrival my assistant, Sing, and I immediately set forth to build a small set for the portrait. Time was limited since I needed to be out of the restaurant before lunch time diners began to arrive. Our first challenge was to find enough glasses to fill the scene. Jade Dragon had about half the number I needed so Joao guided us to another restaurant, The Tasting Room, where we filled a bag and our hands with all the glasses we could carry. It actually felt like we were looting the place.
With all the glasses we needed Sing and I began to stack the glasses as Joao and other staff watched nervously fearing we would destroy their expensive crystal glasses. The base of the set-up consisted of a layer of black acrylic followed by a sheet of tempered glass. The wine glasses were then stacked two high with a final layer being a sheet of black colored glass. Joao was then positioned so that he is peering down a canyon a glasses the camera. The scene is lit with Paul Buff Einstein strobes with a small Chimera softbox attached to each one. A third light is placed on the floor behind Joao as a background light.