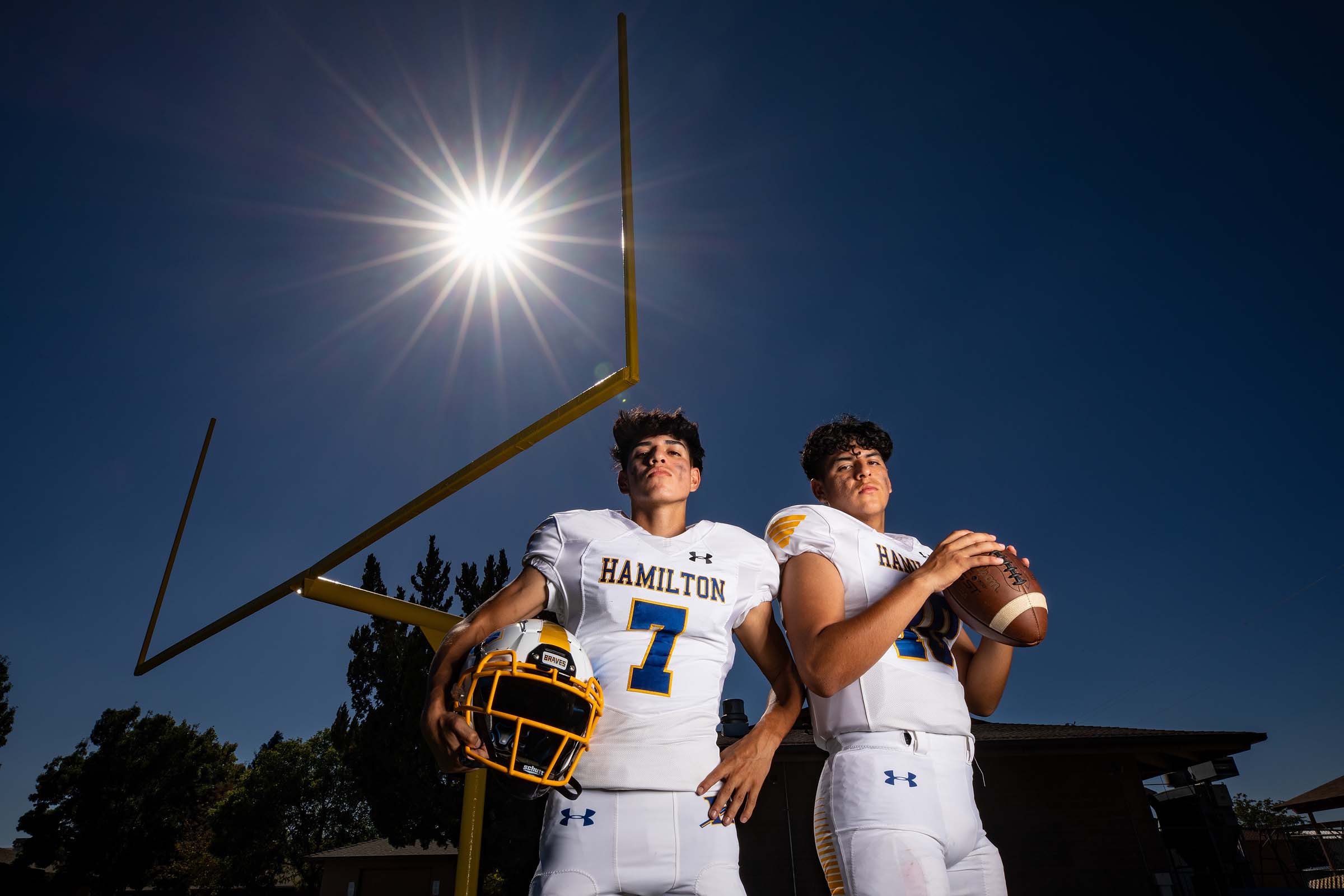 Twin brothers, Omar and Diego, 11th graders, are a powerful duo on the Hamilton High School football team.
Hamilton City, California
For a recent shoot I was asked to do a set of portraits of students at a small rural high school located in California's Sacramento Valley. Typically this would not be the kind of client I would pursue as it usually means they are seeking your general PR type of imagery. However, I was drawn to the project when Janice Lohse, the school's ag department director, contacted me and said she had seen what I had done with the State FFA Officers and wanted something similar for her students. She wanted a set of photos that she could use to promote her ag department as well as sports teams and other activities.
After discussing the various approaches we decided to do a mix of both group and individual shots. With just two shoot days and over nineteen unique situations and locations on Janice's wish list I knew I'd be having to work and think fast. The locations for each shoot kept me moving from an early morning rice field shoot to the baseball diamond to the softball field to the sheep shed to the gym, to the classroom, to the welding shop, back outside to where they do flower arranging and into the greenhouse, back over to the football field, then high up on a forklift to photograph the olive orchard, and even to a ranch outside of town. Yes, I was tired by the end of the shoot.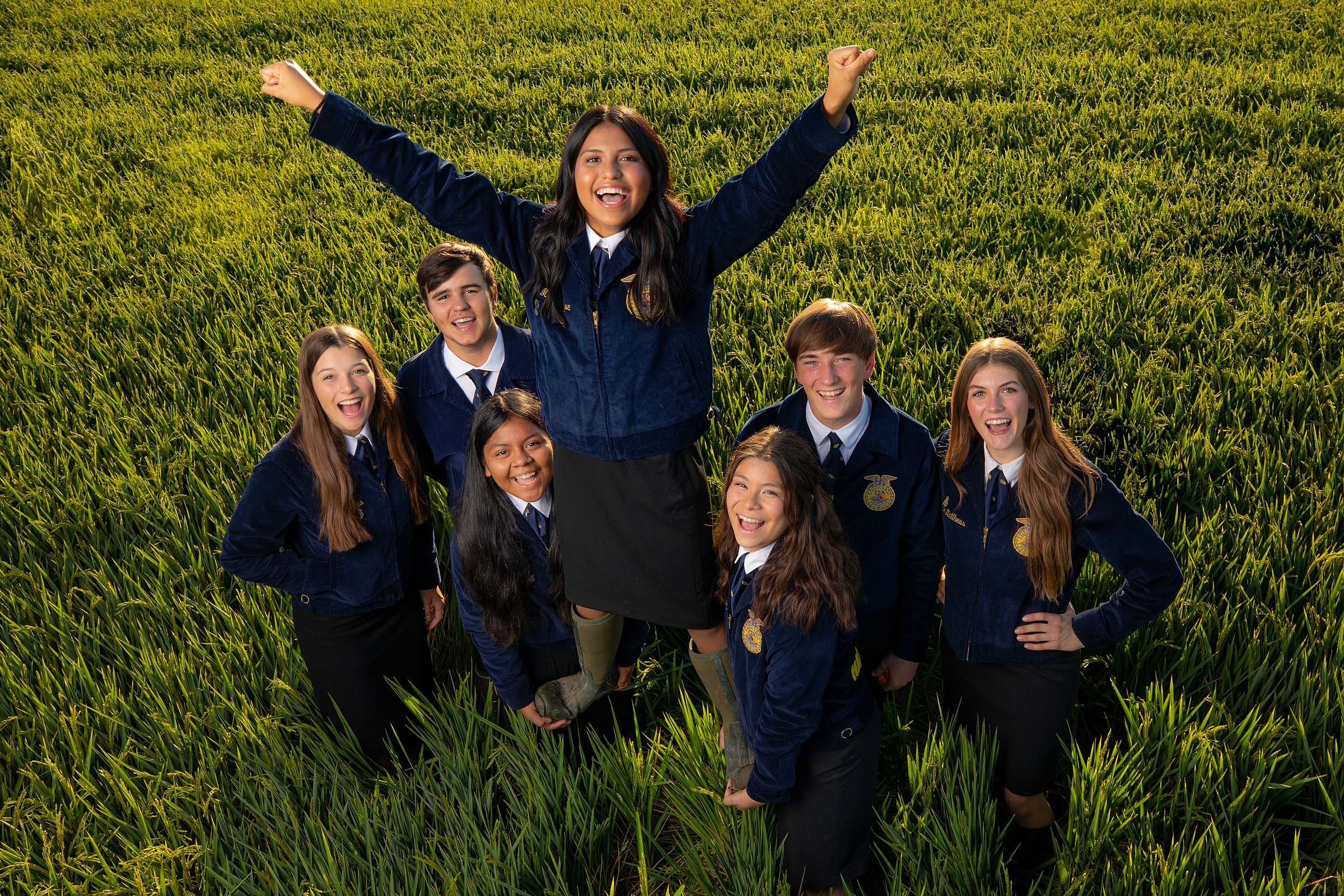 Despite the early call time the FFA officers managed to show bright and happy faces while standing in this wet, mosquito rich, rice field for an early morning portrait. From left to right are Claire, Caden, Elia, Maribel, Ximena, Bryant, and Kate.

The most difficult shot of any shoot is that very first setup. Especially when it's a new client and at an unfamiliar location. Any number of things could go wrong. Equipment malfunction, people not showing up, late arrivals, or worst of all, the client doesn't like the direction or the look of the photograph. Fortunately none of these occurred for this shoot, with the exception of one equipment malfunction later in the day which I will talk about later.
Our first location was at rice field a few miles from the school campus. The town of Hamilton is surrounded by farm land. In fact the town is so small that if you weren't forced to stop at its one stop light you might not know there was a town there at all. It's the kind of place I would have loved to have grown up in. Ever since I was a kid I loved the idea of living on a farm. I actually turned our suburban backyard into a mini farm where I raised chickens, rabbits, and a duck. I was lucky that our neighbors never complained and even supported me by buying the eggs.
Anyway, back to the rice field. I arrived before sunrise and was happy to see one of the other ag teachers, Andy Martin along with his infant daughter, already there waiting for me. I began to set up my gear and as the sun began to peak over the horizon the team of FFA officers arrived. All looking sharp and spiffy in their dark blue corduroy jackets. We headed out into the field where I set up my six-foot ladder and big softbox and began to shoot. The officers were all good sports and willing to try lots of different poses and expressions. When I learned that one of them was actually a cheerleader I suggested they hoist her up in the air, which they happily engaged. Then when Andy brought his daughter out into the field they insisted I get a shot with the little one.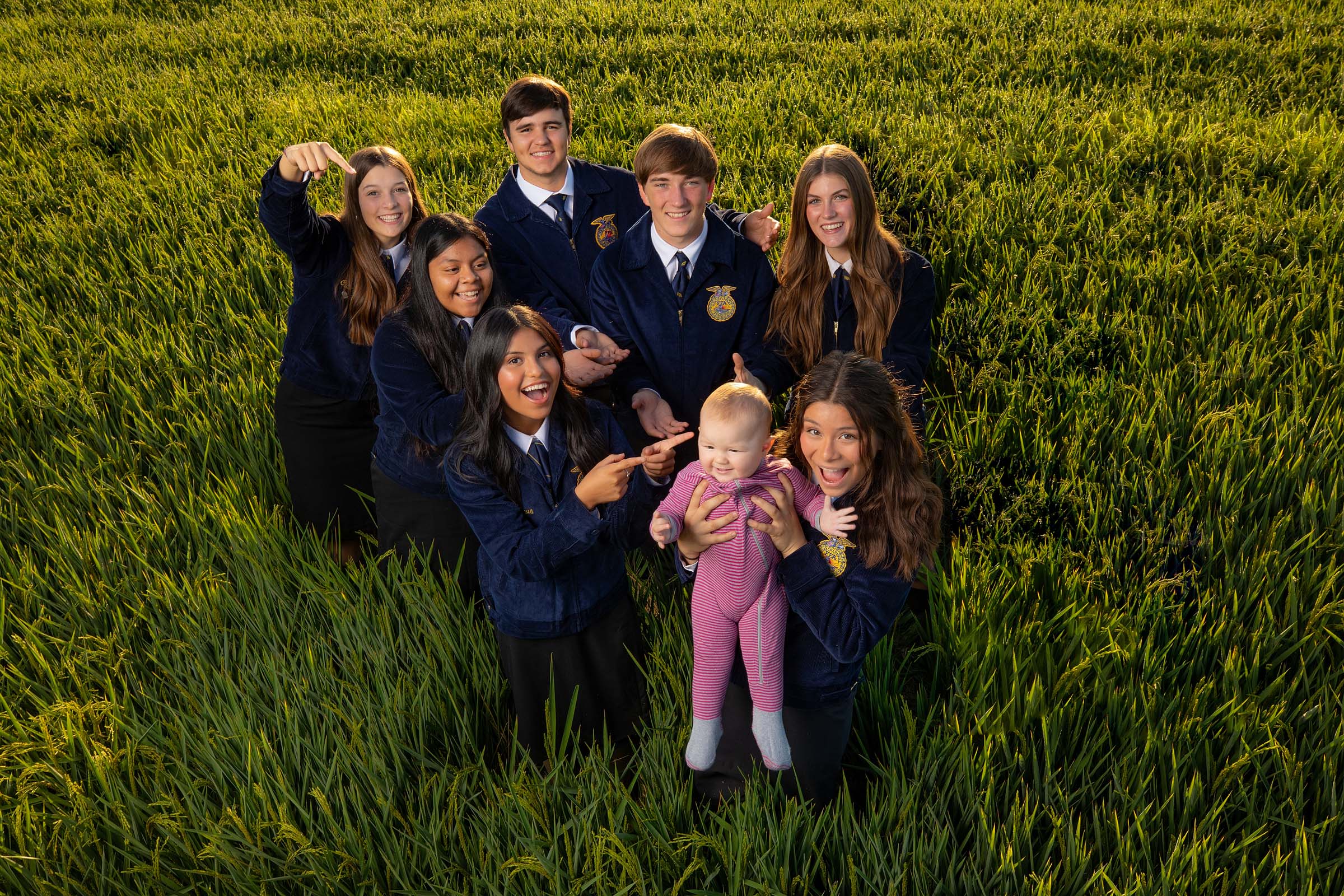 Future Hamilton High School student photo bombing our shoot.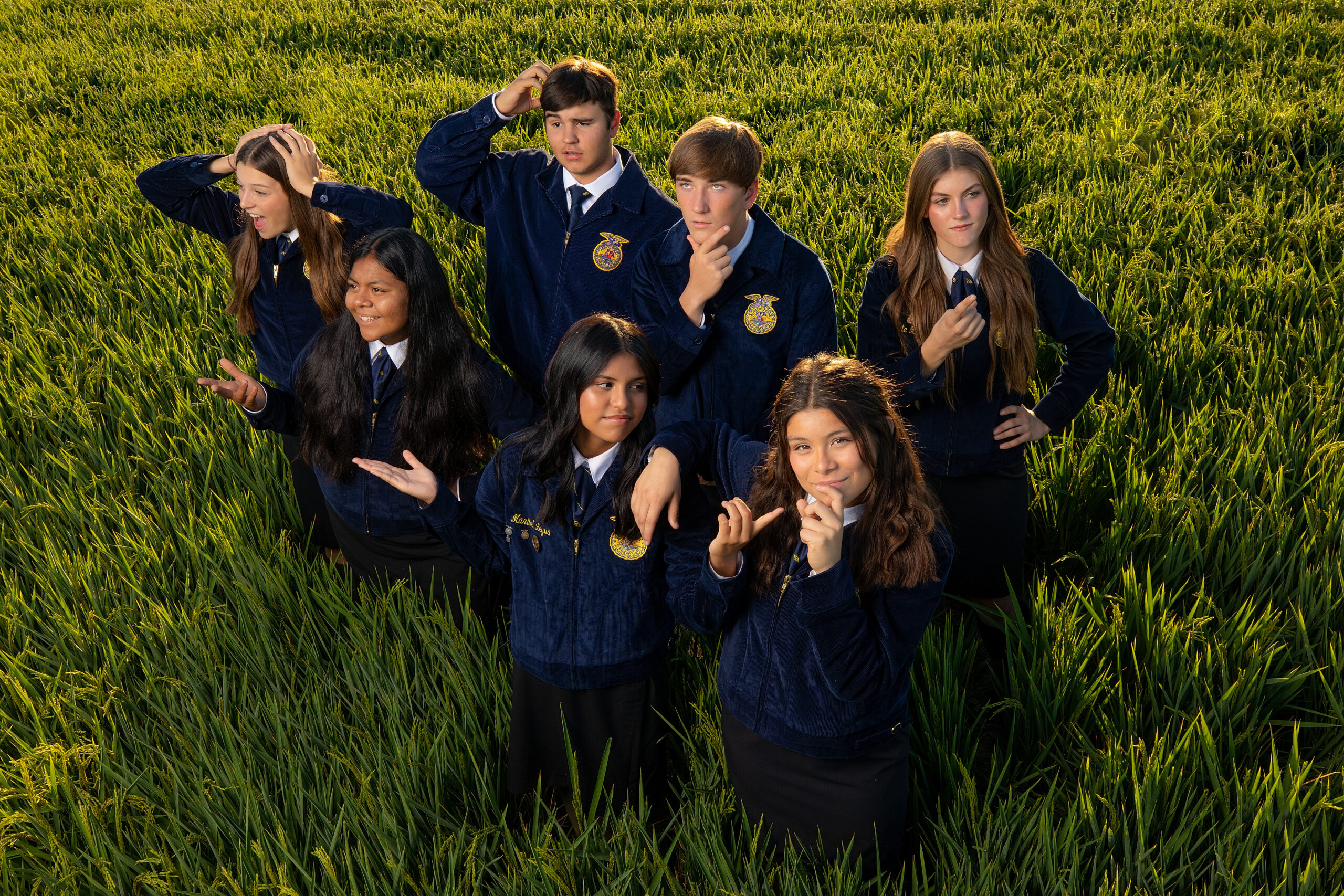 Not sure how this pose came about. Either I said think about another pose or pose like you are thinking about your future.
With this first shoot successfully completed we headed back to the high school and went straight to work photographing members of both the baseball and softball teams.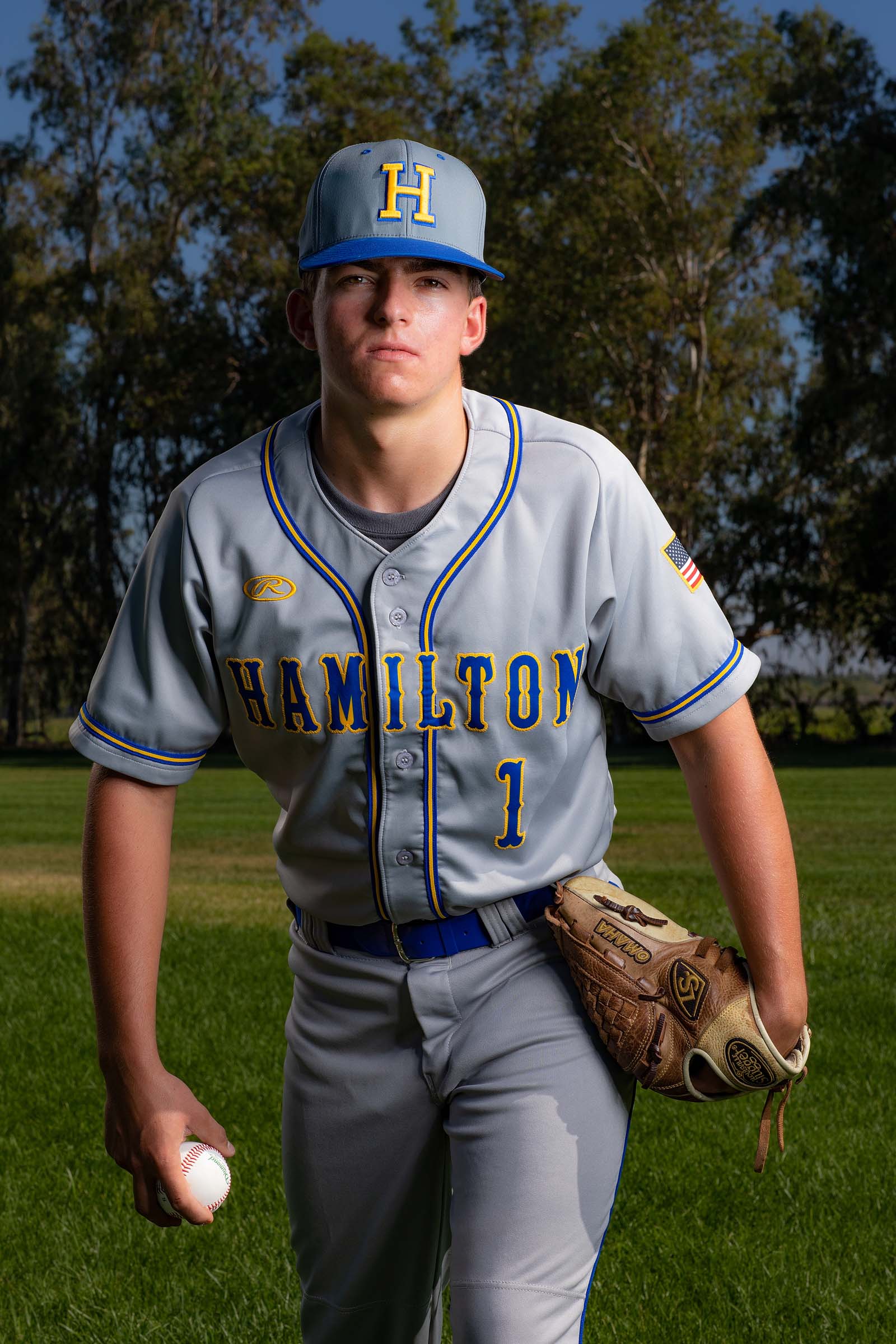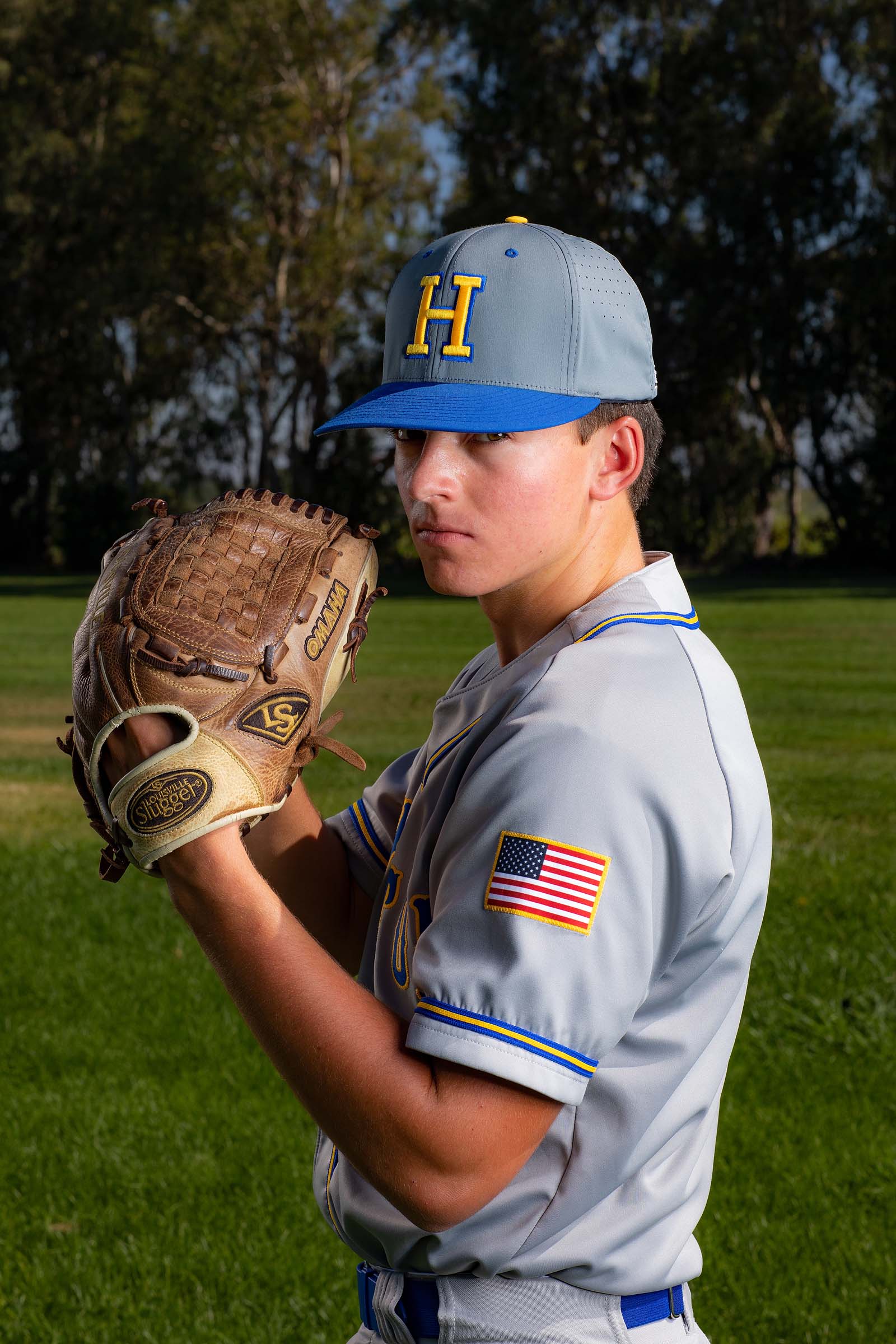 11th grader, Anthony, on the mound.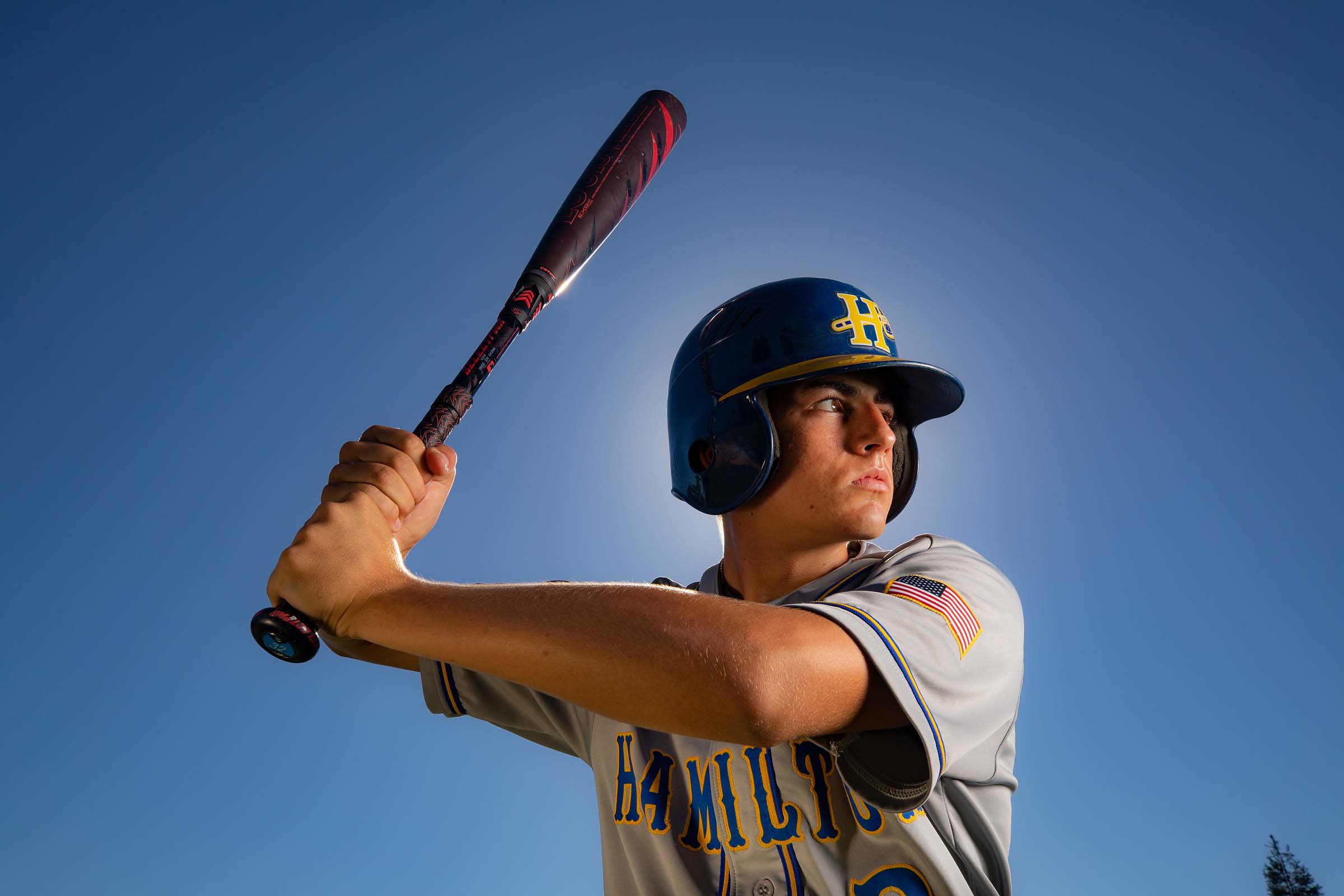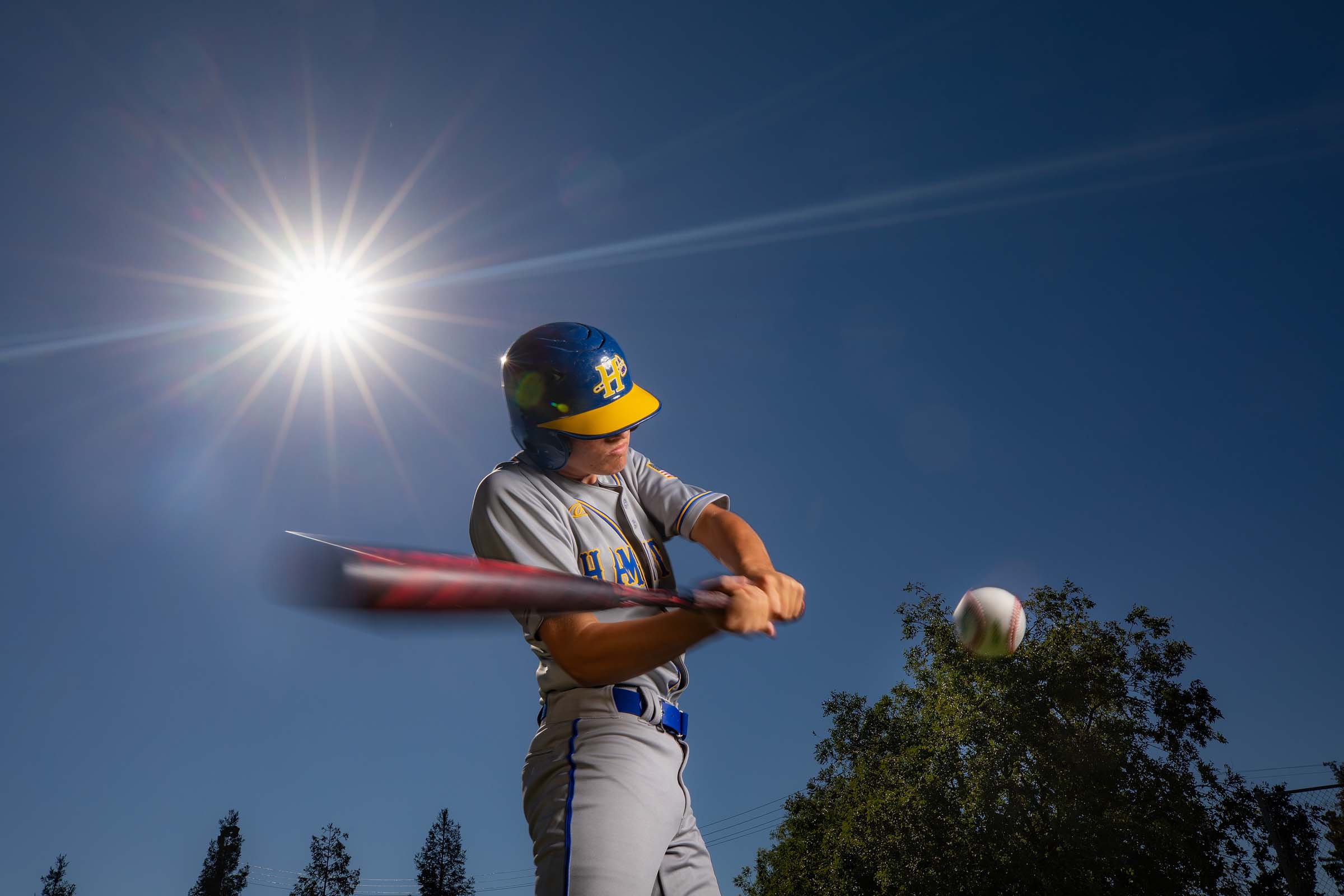 Jackson, 9th grade, at the plate.
My approach for this series of high school portraits was to use my studio lights in as many situations as possible. Even with peak action I wanted to provide that quality of light often reserved for a studio or interior space. I'm actually not trying to deceive the viewer in thinking I made these images during a game but offering a different approach to sports and outdoor portraiture.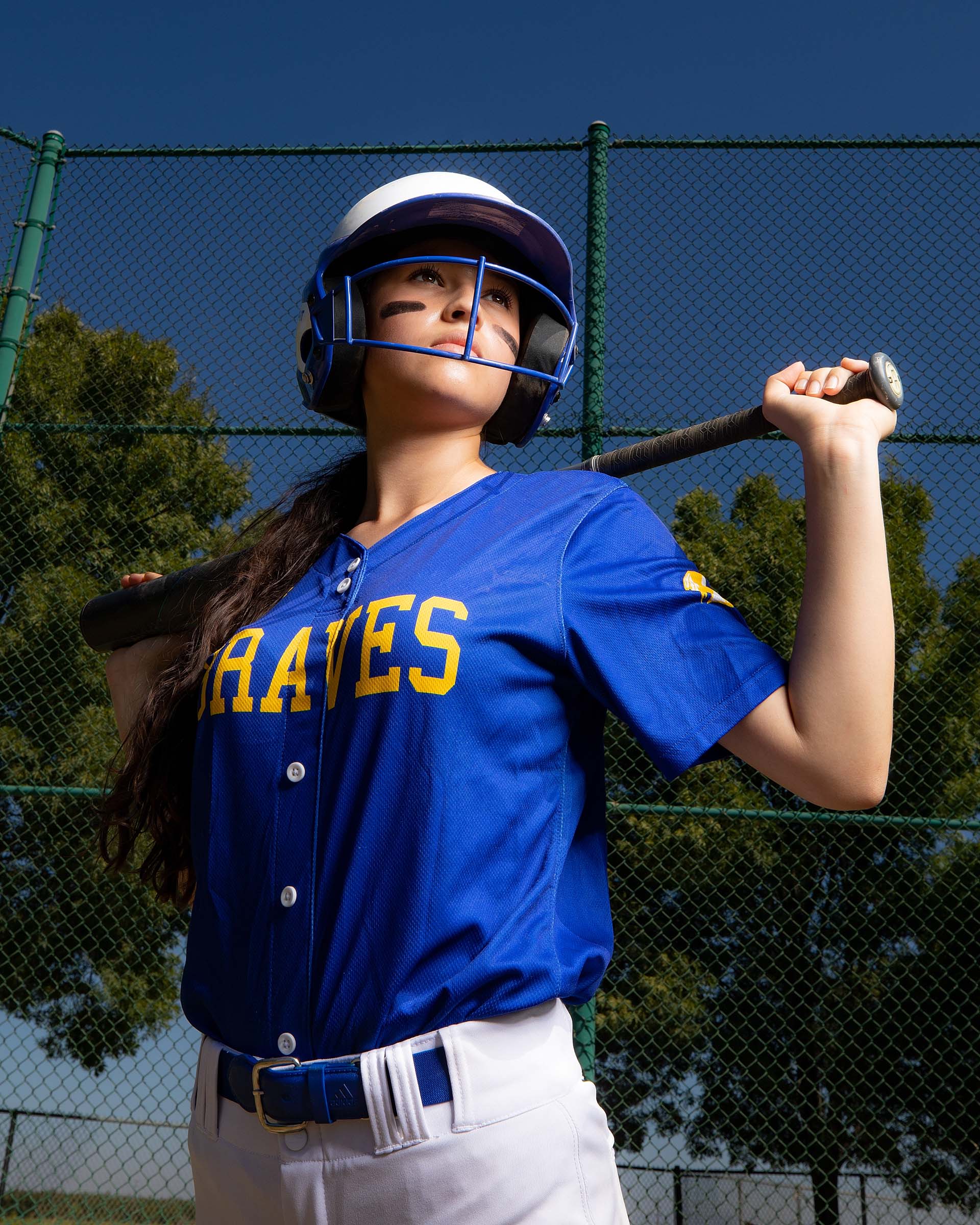 Aranza, 11th grade, ready at bat and in the field.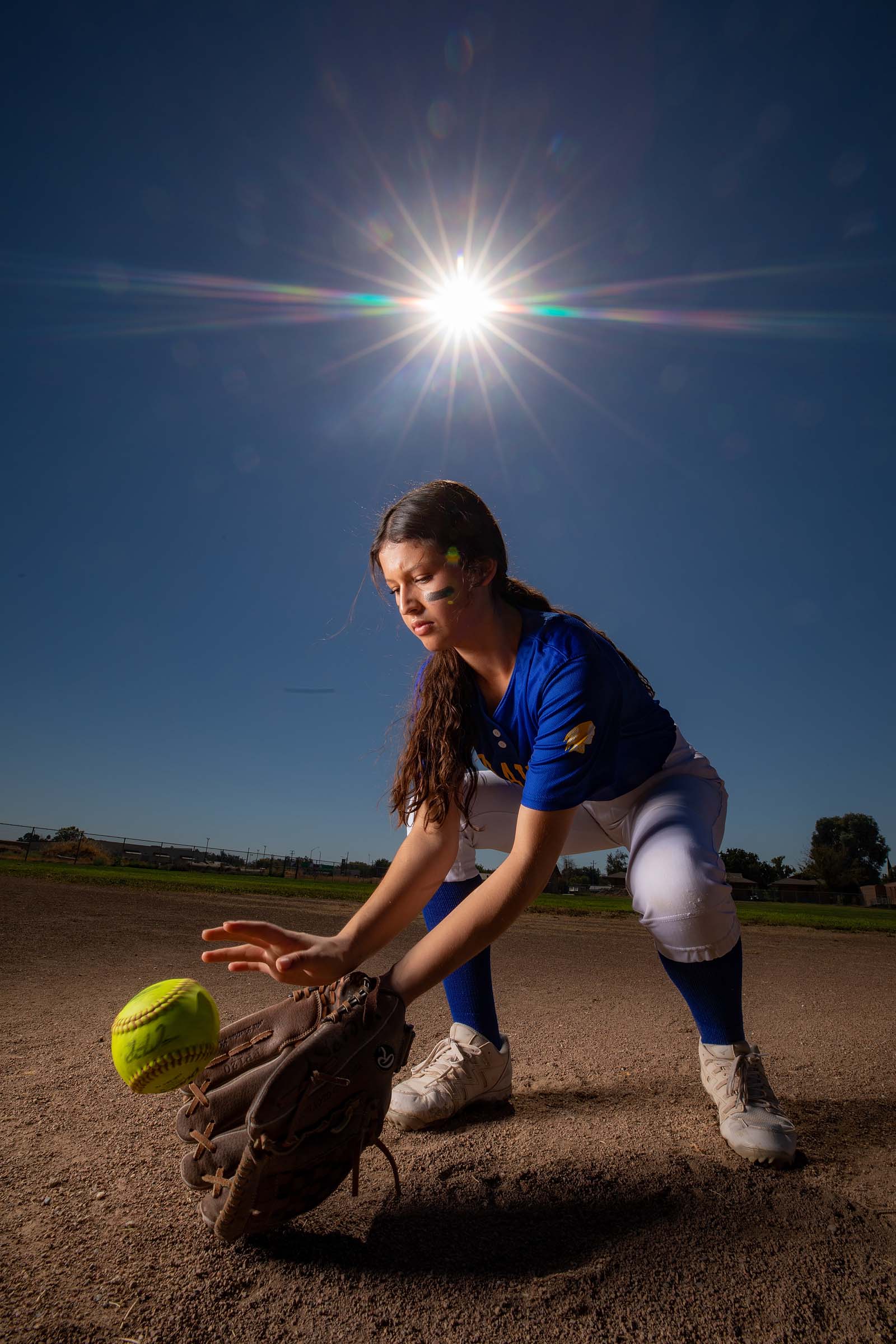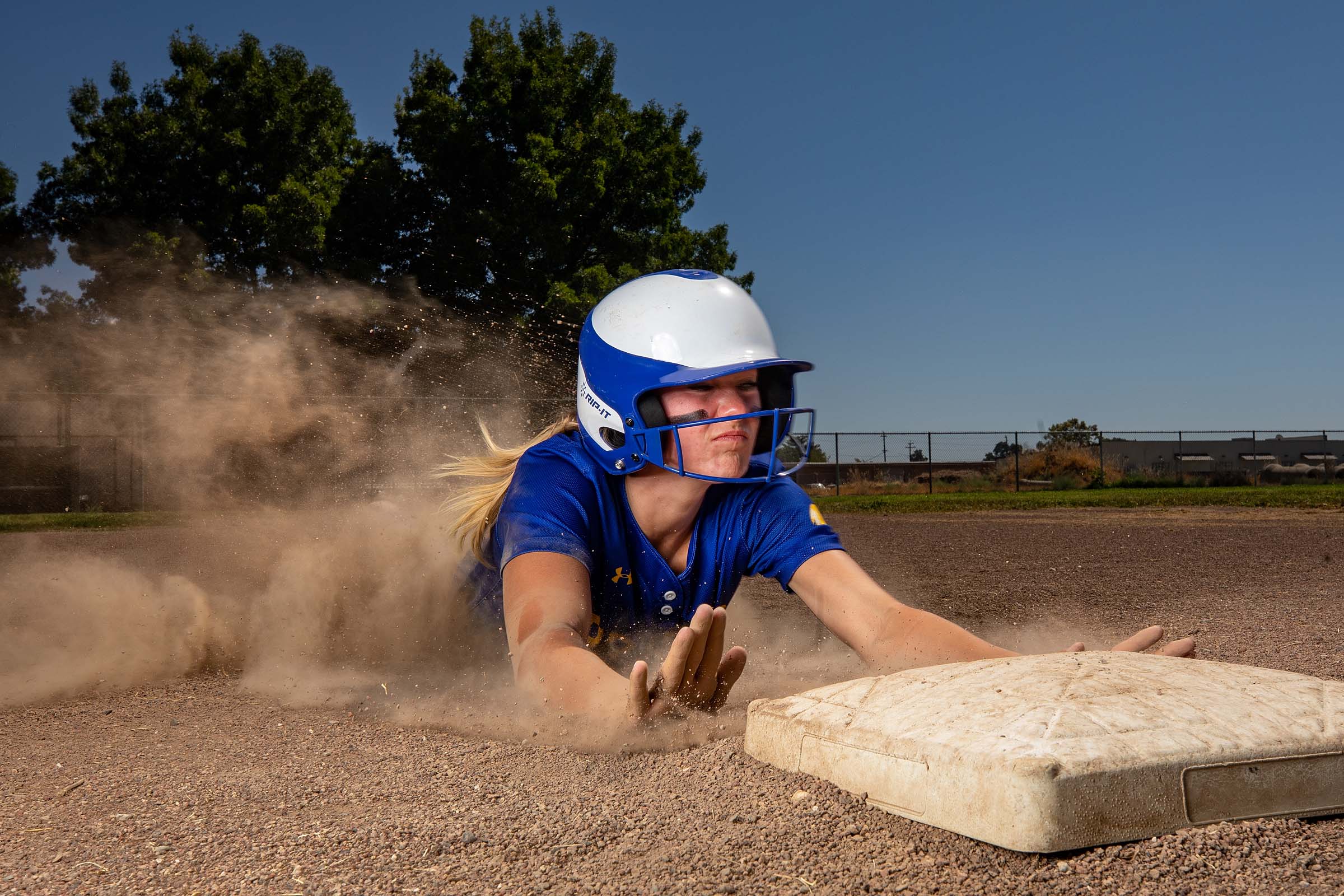 11th grader, Ariana, demonstrates her sliding skills.
One of the things that really helped with the success of this shoot was the positive attitude of all involved. The subjects I was photographing were game for anything even 11th grader Ariana who I made slide back into second base at least a half dozen times. With each slide she would get up and dust herself off and after analyzing the image came the dreaded photographer's phrase, "Let's try one more", to which she would happily get back into position and hit the dirt.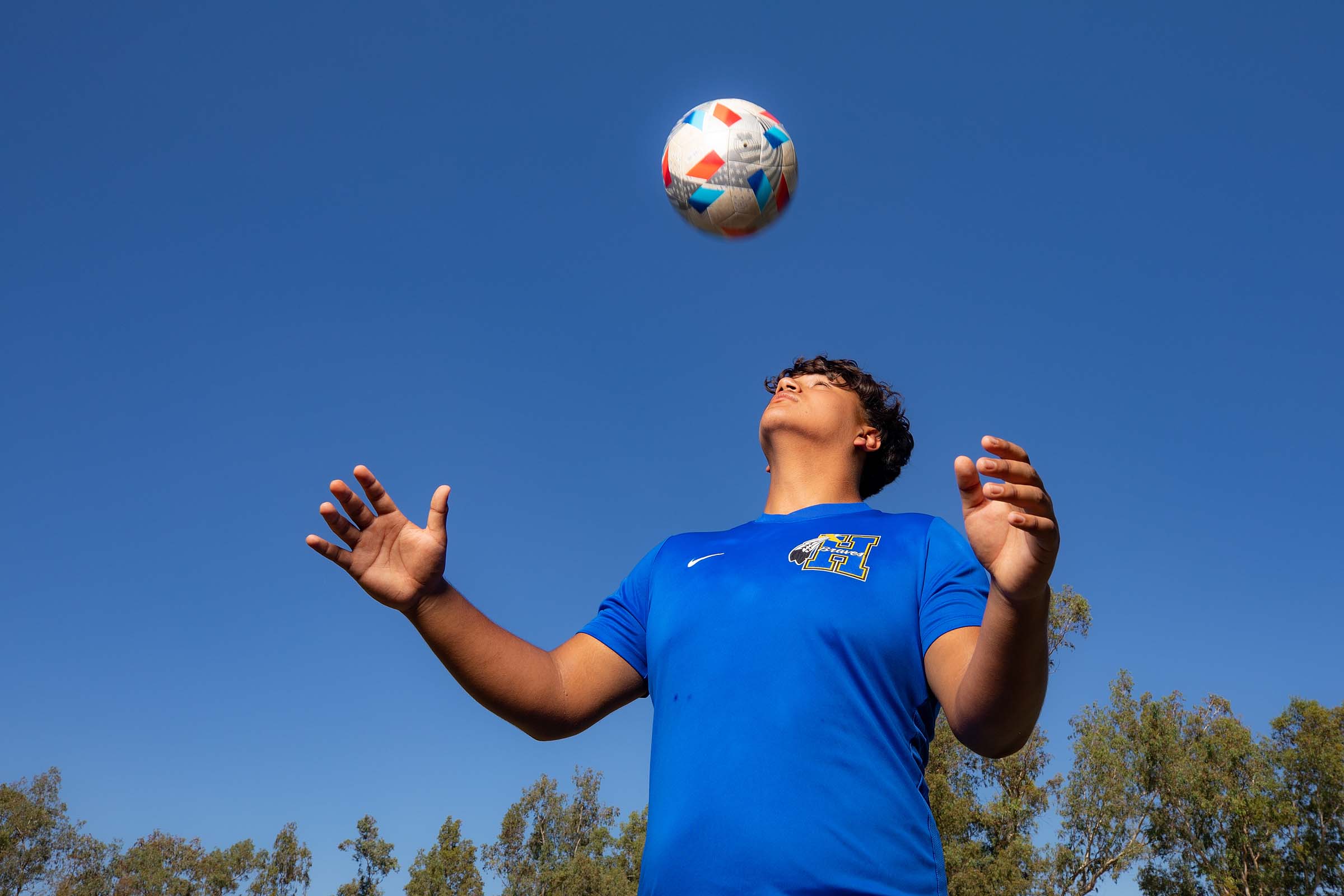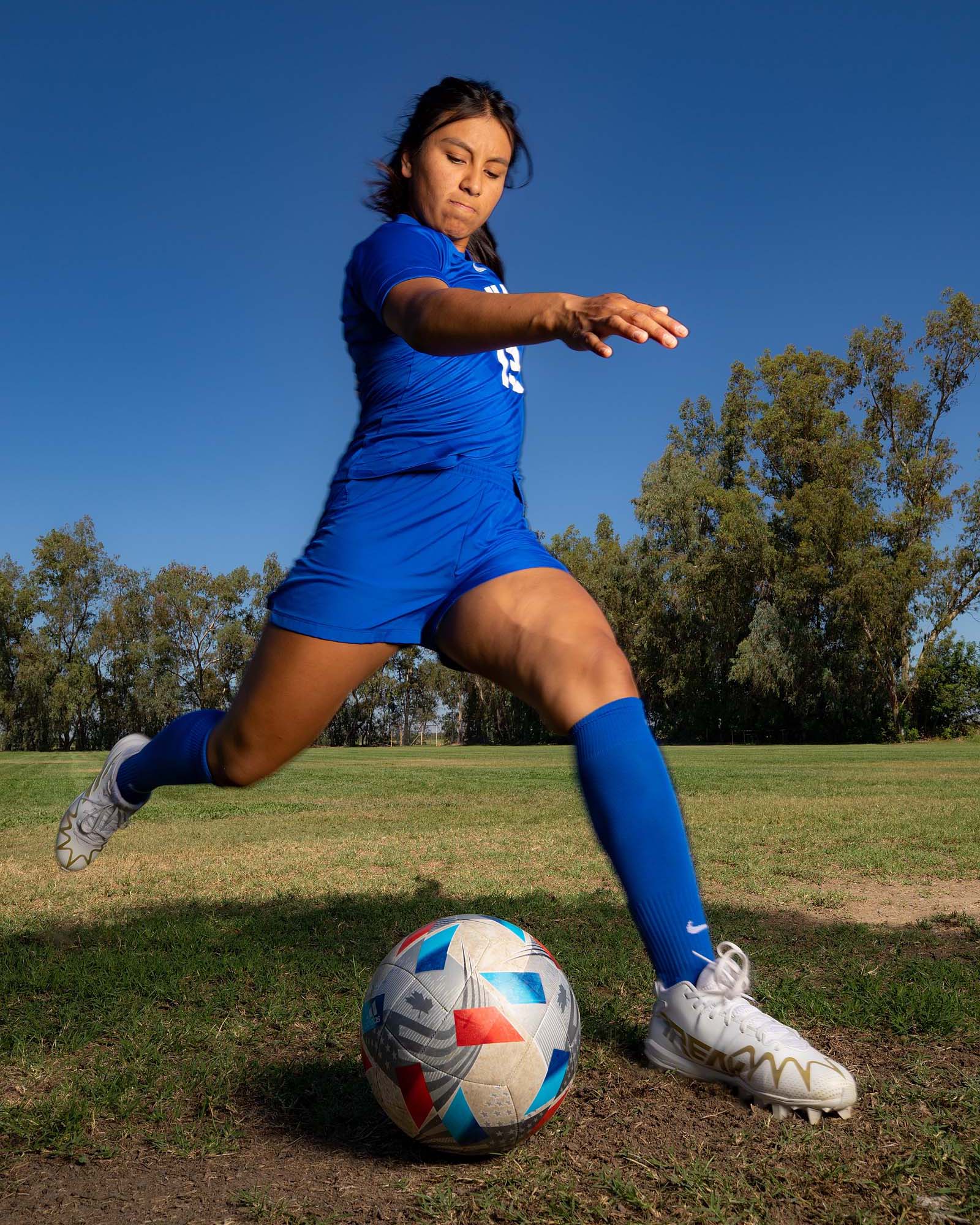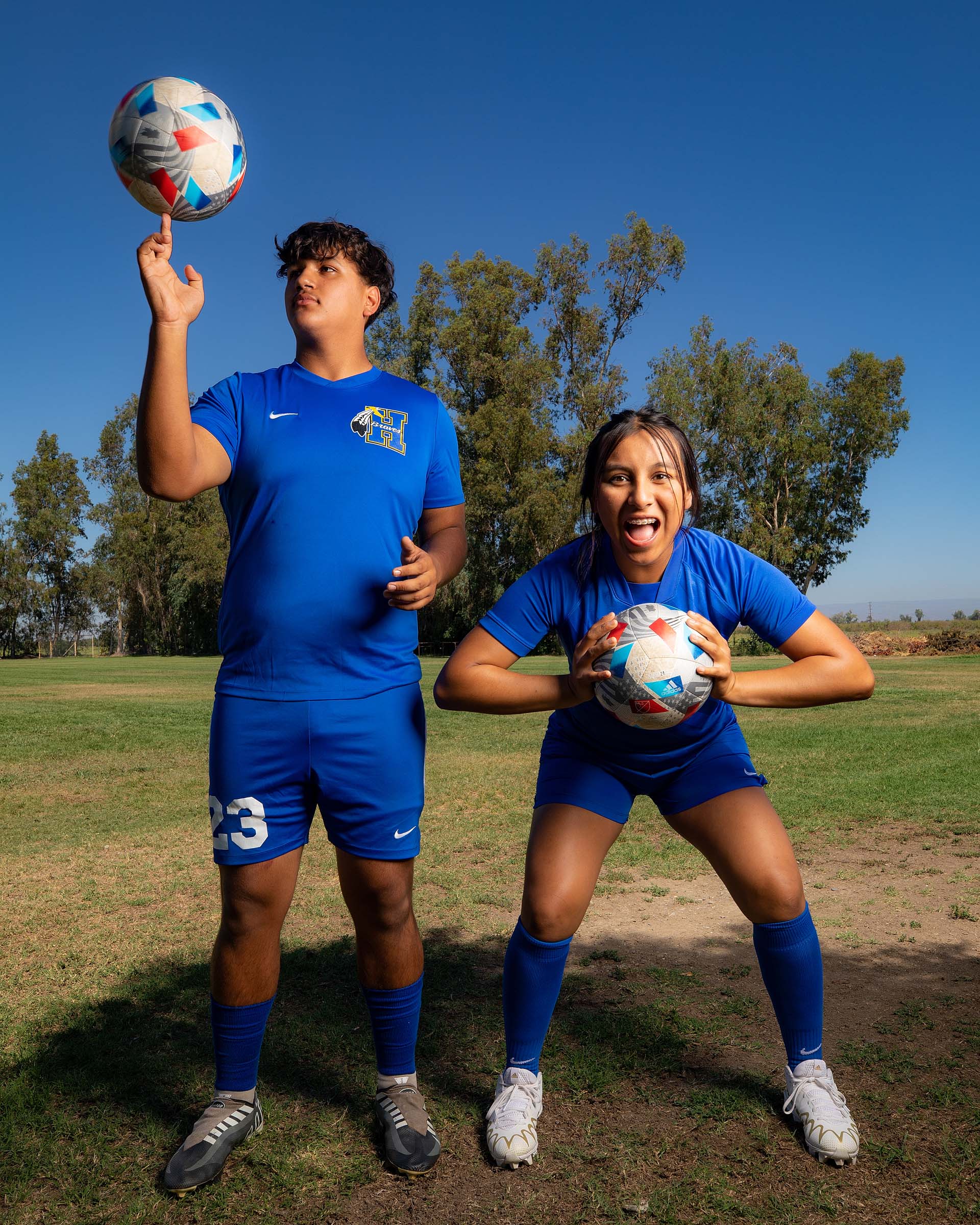 Cesar, 10th grade and Valeria, 11th grade, were keen to demonstrate their soccer skills.
Moving from one sport to the next I could see all the young athletes waiting for their shot in front of the lens. It was only mid-morning and the heat was already rising to an uncomfortable level. We proceeded to the soccer players where I met Cesar and Valeria. I had them do a number of ball control shots and then Valeria suggested I do one where she looked really intimidating. She squeezed the ball and made a menacing face which I thought looked both strong and humorous. Cesar, standing beside her, then just started twirling the ball on his finger. Not exactly what I'd associate with soccer which explains why I liked it.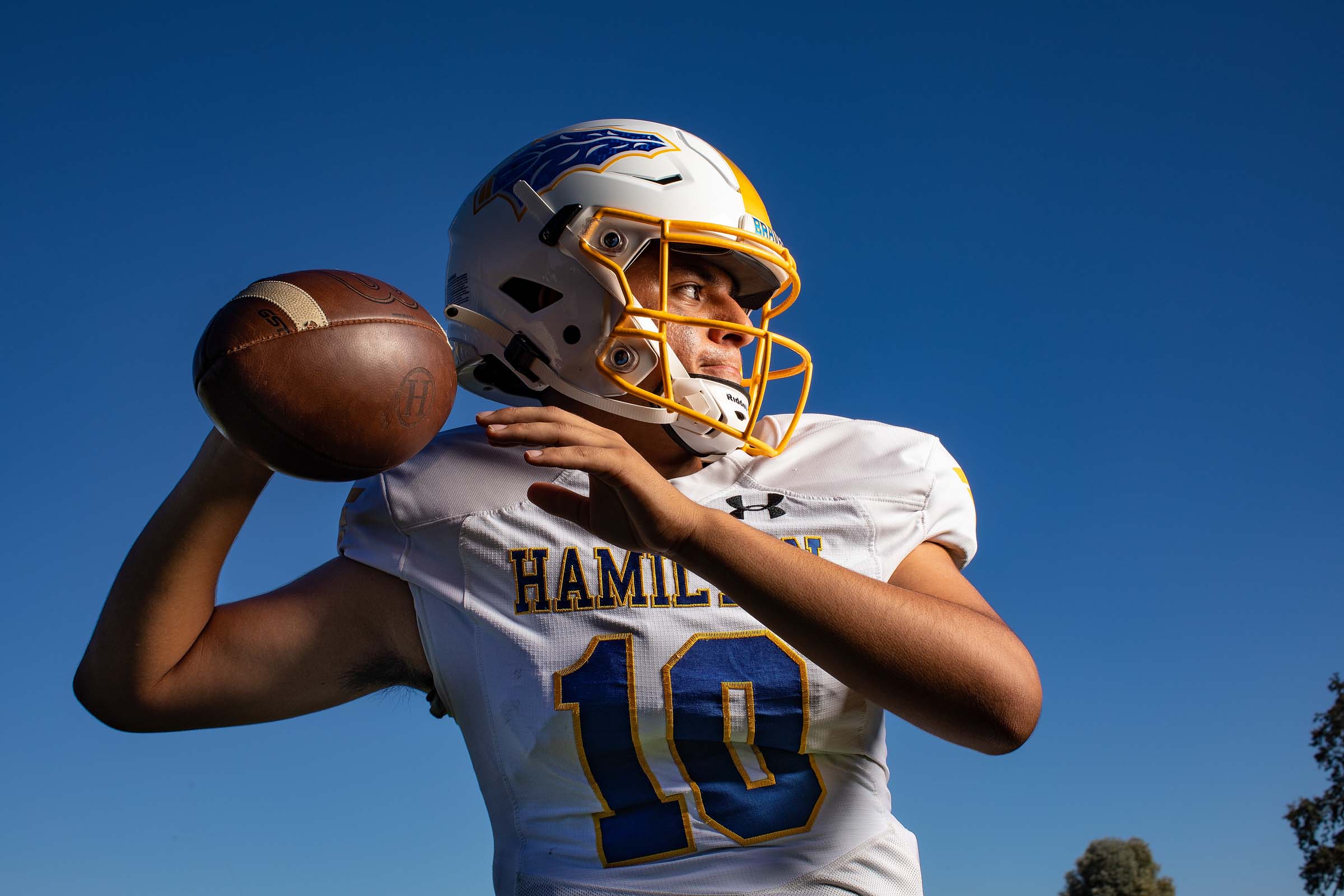 Diego, 11th grade, ready for all challengers.
It was on the football field where the dreaded equipment failure occurred. With football players Omar and Diego waiting for me to set up for their portrait I went to turn on my light and nothing. The lights on the battery pack were glowing but no juice was reaching the flash. Thinking that the flash blew a fuse I quickly swapped it out for another flash head. Still nothing. It's an incredibly horrible feeling when equipment fails in the middle of the shoot. Since I was sure it was the battery that was the culprit I turned to Andy and asked if there was any electricity within a hundred feet of us. Fortunately my lights run off both AC and DC power so if I could run an extension cord to my position the shoot would be saved. Within minutes Andy showed up with a long extension cord and ran it across the field to my position. We were back up and running and hardly missed a beat. Working with people who can problem solve is such a pleasure. As it turned out the battery got over heated in the 100F(35C)+ degree heat and decided it needed to cool off.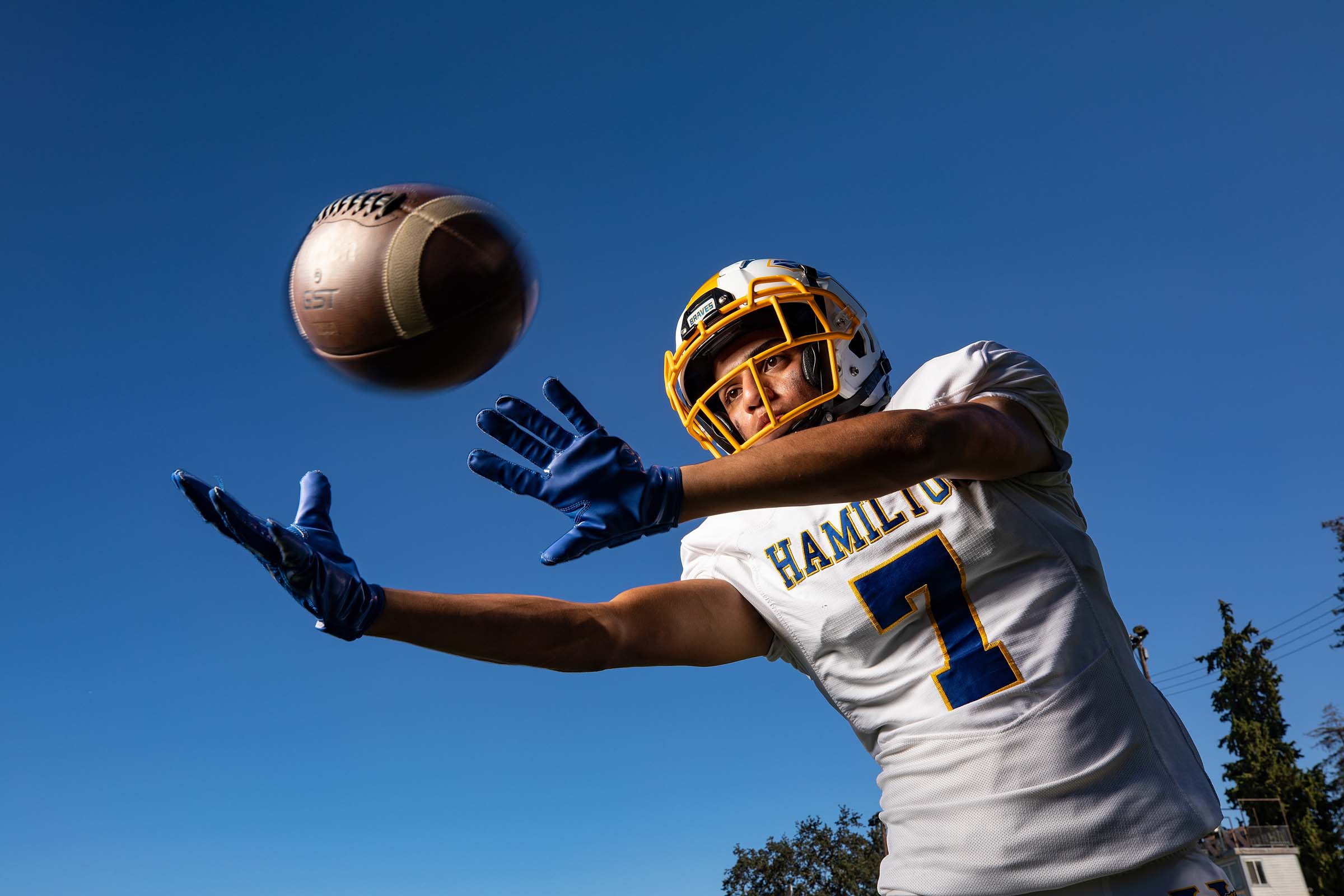 Omar, 11th grade, is always ready to catch a pass from his twin brother.
With the heat of the day upon us it seemed prudent to move inside to photograph some of the indoor sports. My first subject was Connor, a 6'3″ 12th grader. He appeared to be a force to be reckoned with so I created a lighting setup that may assist and perhaps add to the intimidation factor should the team's competition ever see the image.
Following the portrait of Connor I then concentrated on his teammate, Caden, and followed the theme I had established of using dramatic lighting.
Keeping the focus on basketball I then photographed 11th grader Natalie on the girls basketball team.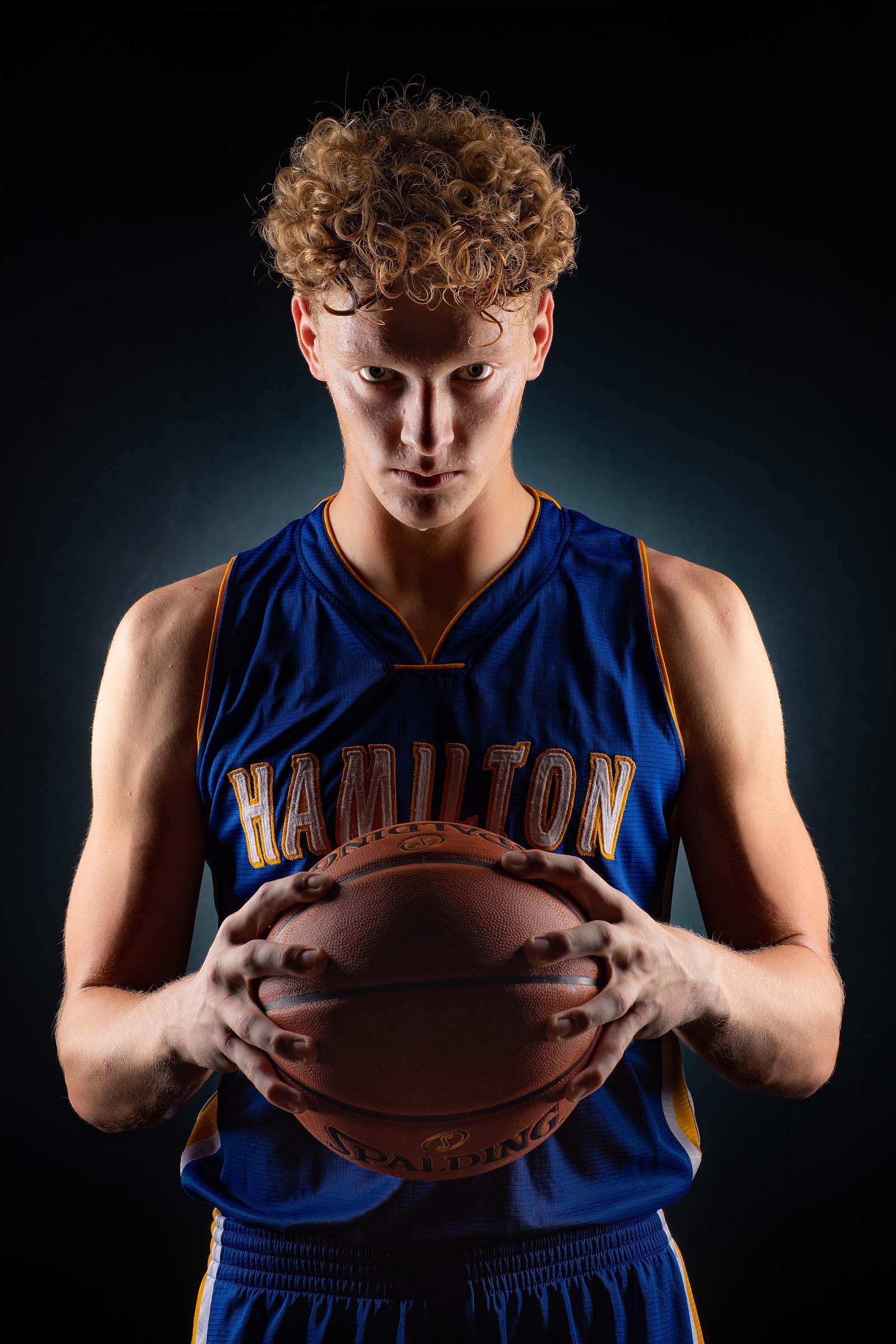 At 6′ 3″ Connor, 12th grade, is a force to be reckoned with on the court.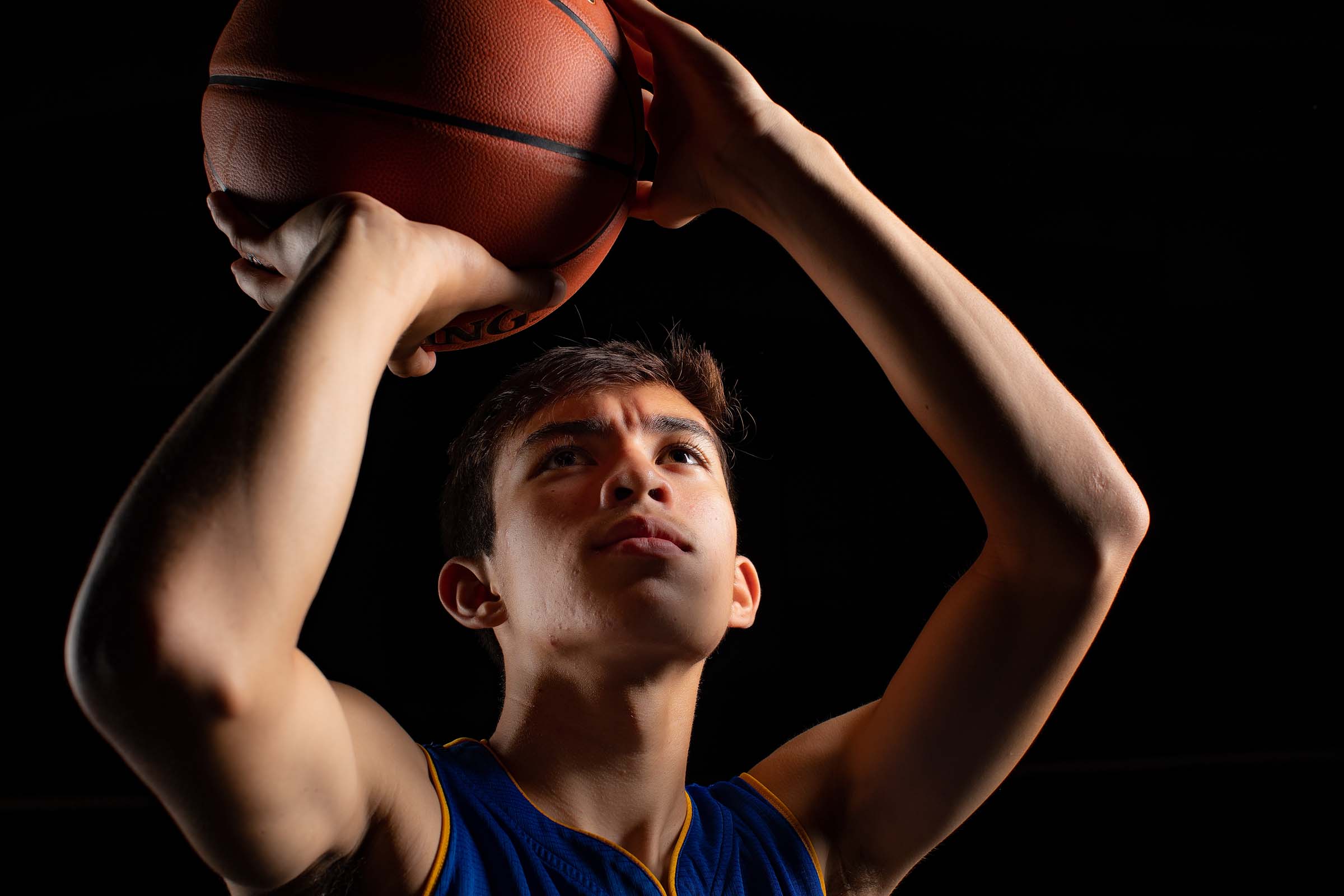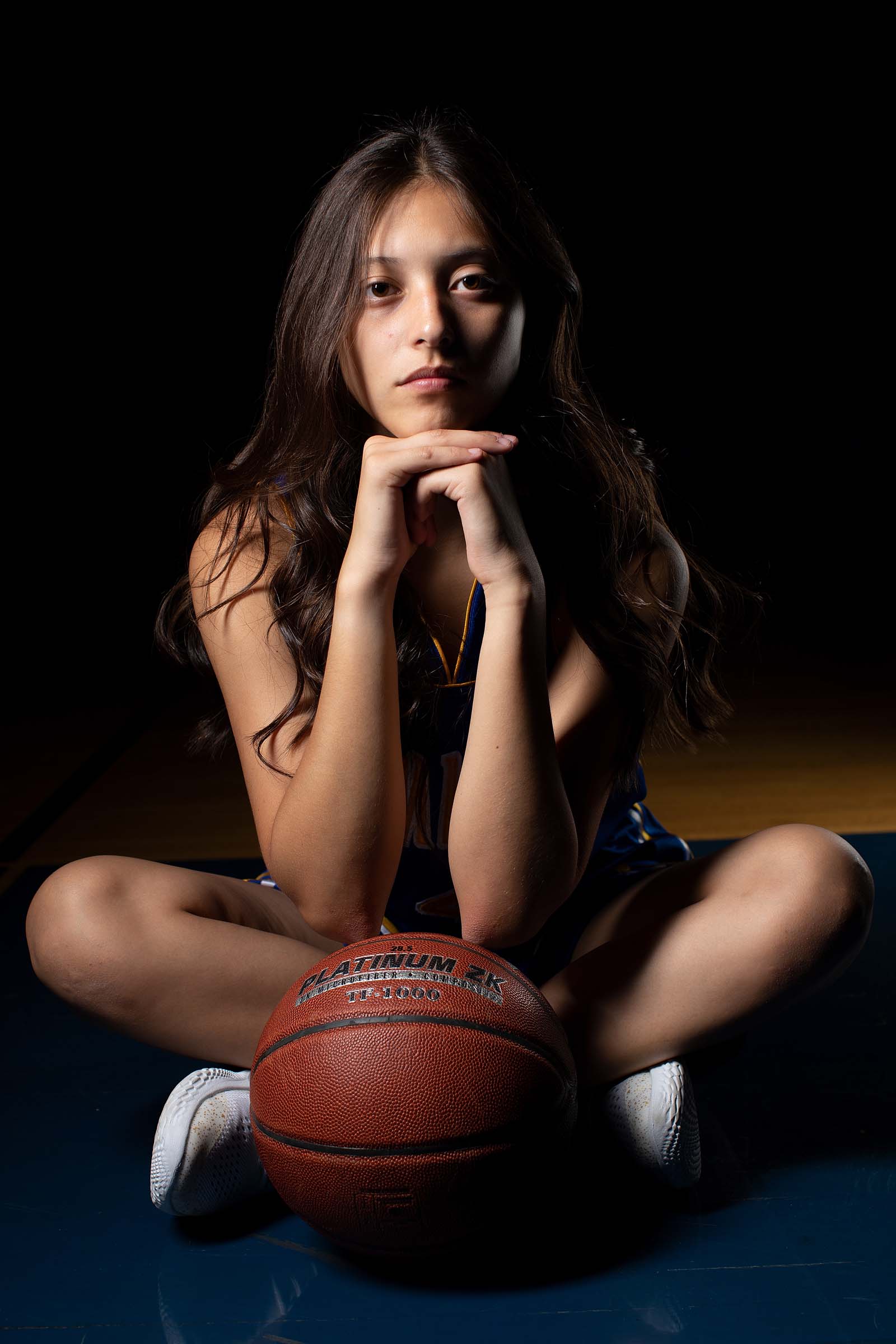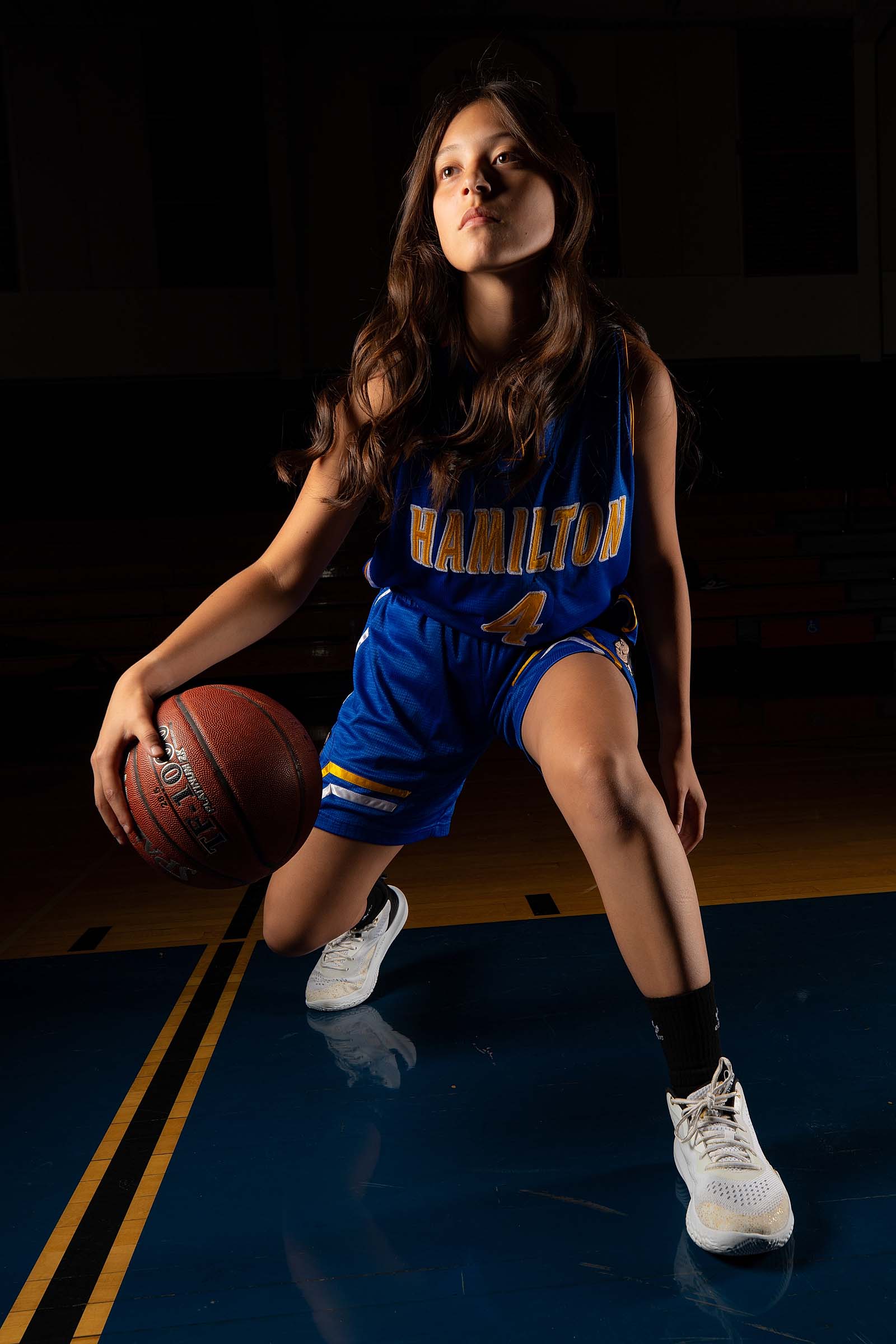 On the court with 11th grader, Natalie.

On the other side of the gym were volleyball teammates were Julia, 10th grade and Selina, 9th grade, waiting their turn to be photographed. I began with Julia and wanted to make a photo where it appeared she was staring down her opponent. The challenge here was that Julia appeared to a be a generally happy person. It didn't help that her fellow classmates were off to the side making her laugh. I'm often faced with this kind of situation and my method to deal with it is to remain calm and focused. I rarely display any sort of anger but it becomes clear to most people around me that I'm not paying any attention to these peripheral elements and instruct the subject to stay focused on me. It's a great feeling when the chaos around me can be ignored and the subject and I are able to make the photo.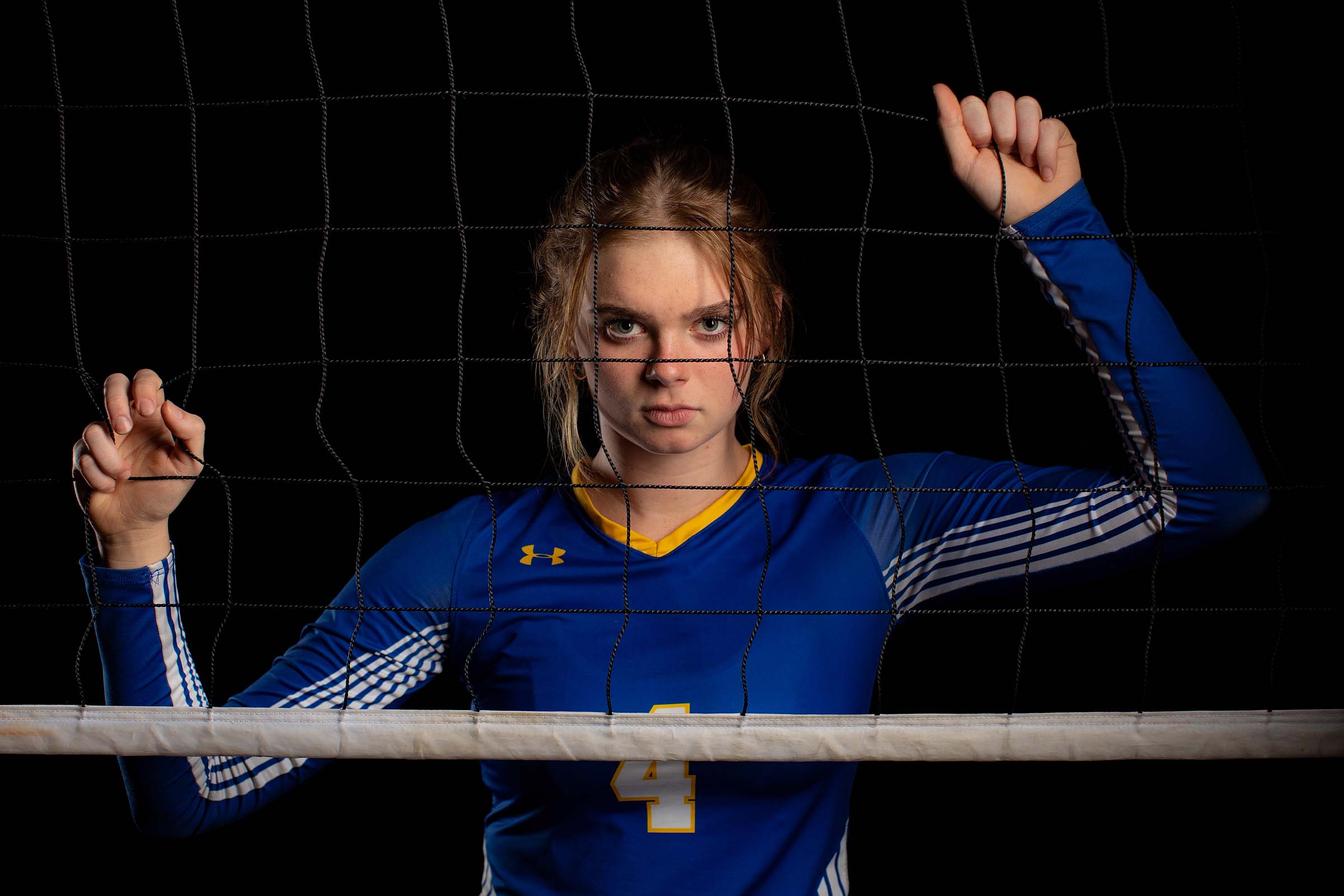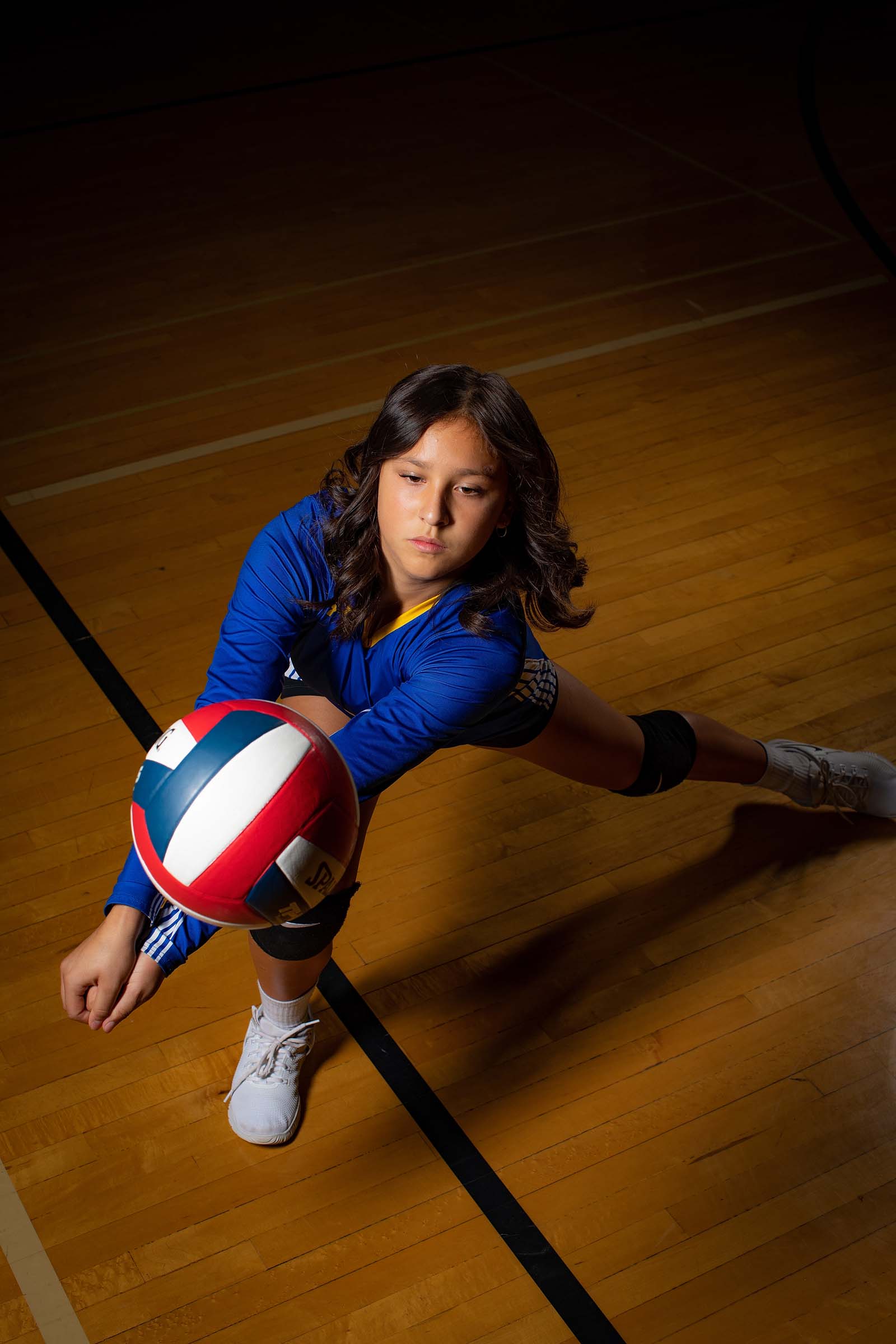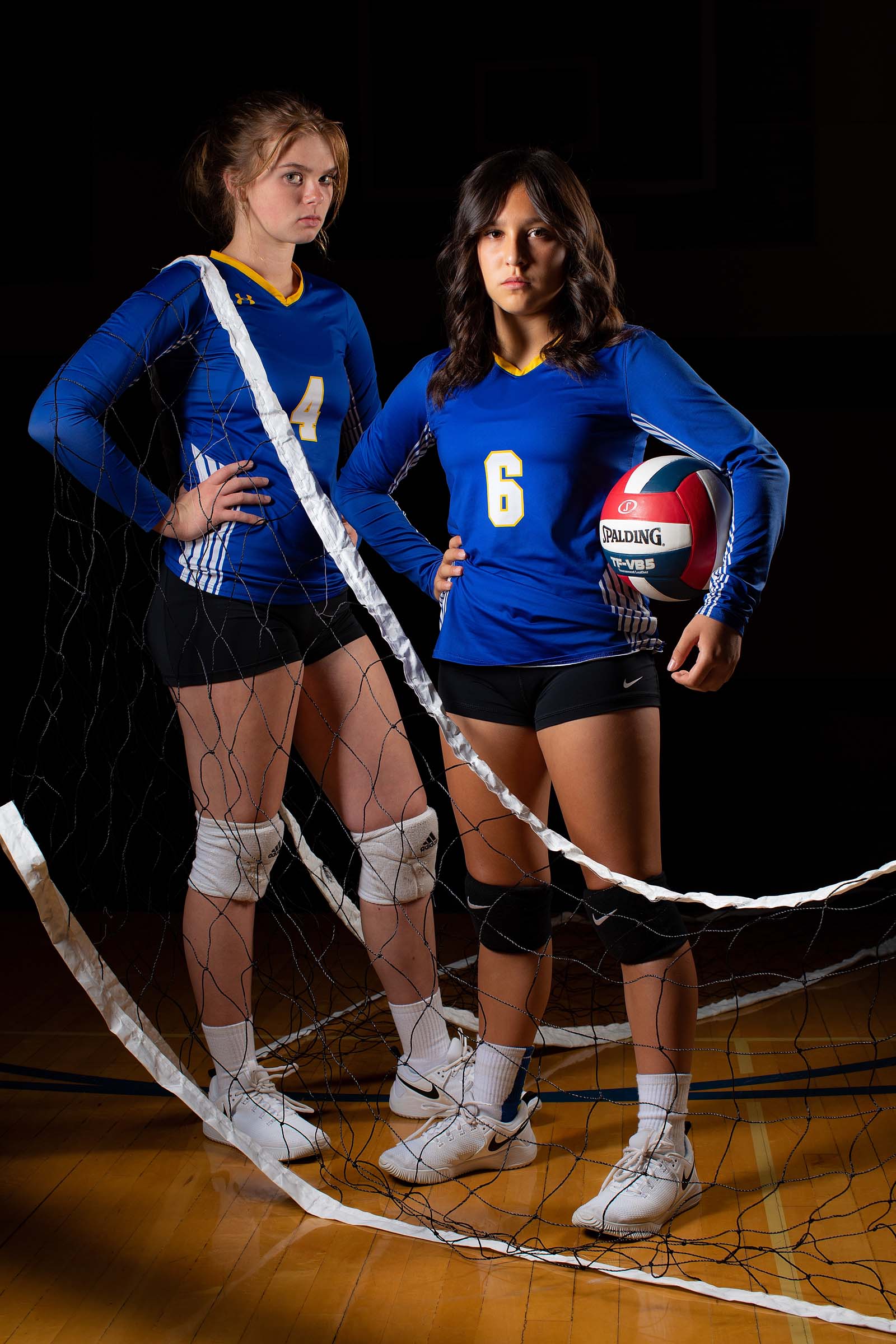 Julia, 10th grade, and Selina, 9th grade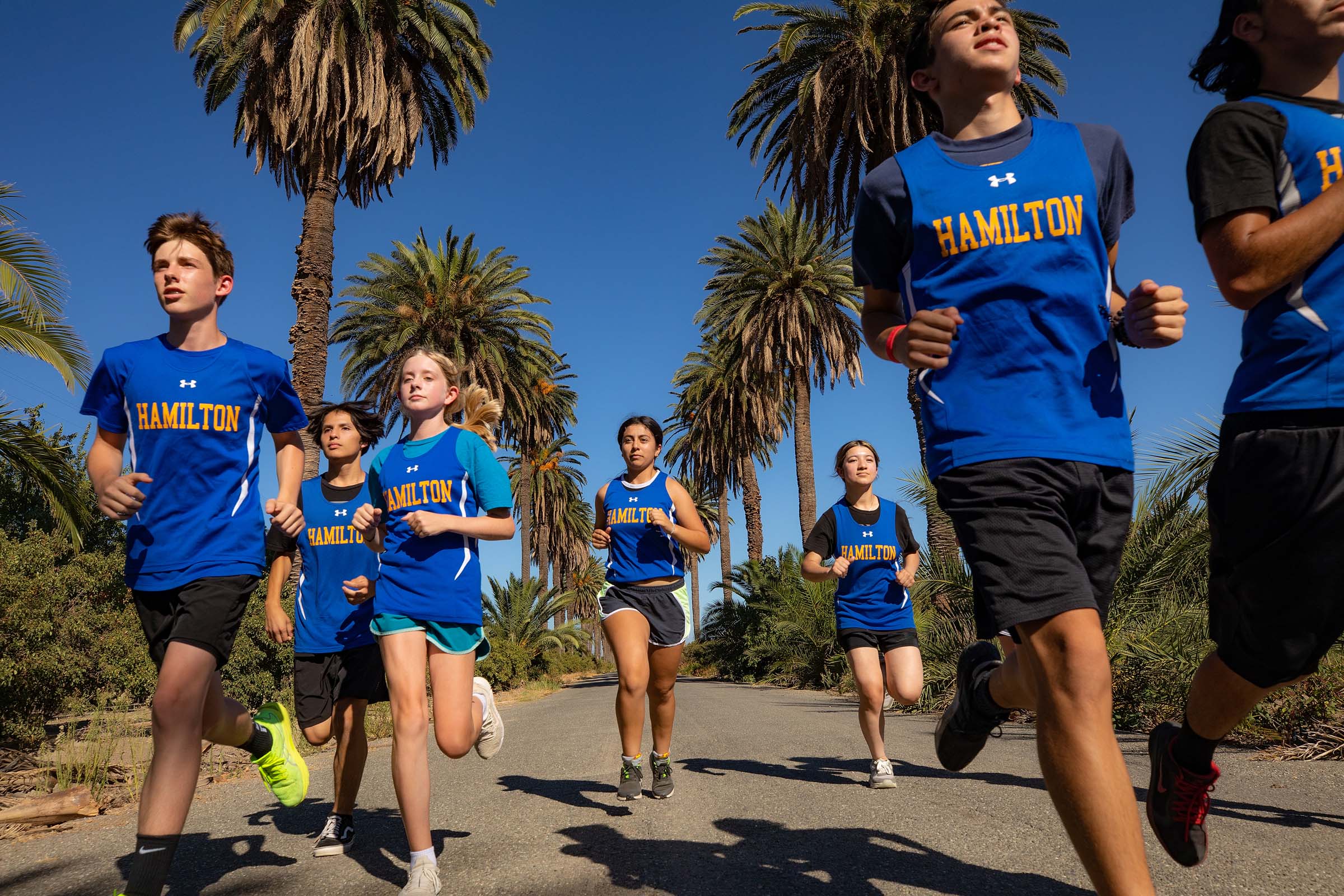 These runners put a lot of miles on their young legs as they prepare for cross country events.
With the list of students that compete in field and indoor sports completed it was time for one more, the cross country runners. Finding a location to photograph these overland sprinters was a bit of a challenge. Being the Sacramento River Valley meant miles and miles and flat farm land. In other words no hills. On my first day in Hamilton City I spent some time with Janice Lohse scouting potential locations for each of our shoots. When we drove down a long road lined with palm trees I knew I had to do at least one shot here. Originally it was going to be for another group shot but when I thought about the runners this seemed like the best place for them. Time was running out for our first day of shooting so I kept it simple. And then, just for fun asked them to line up for a group shot. I then shouted, "Jump!" which they did without hesitation.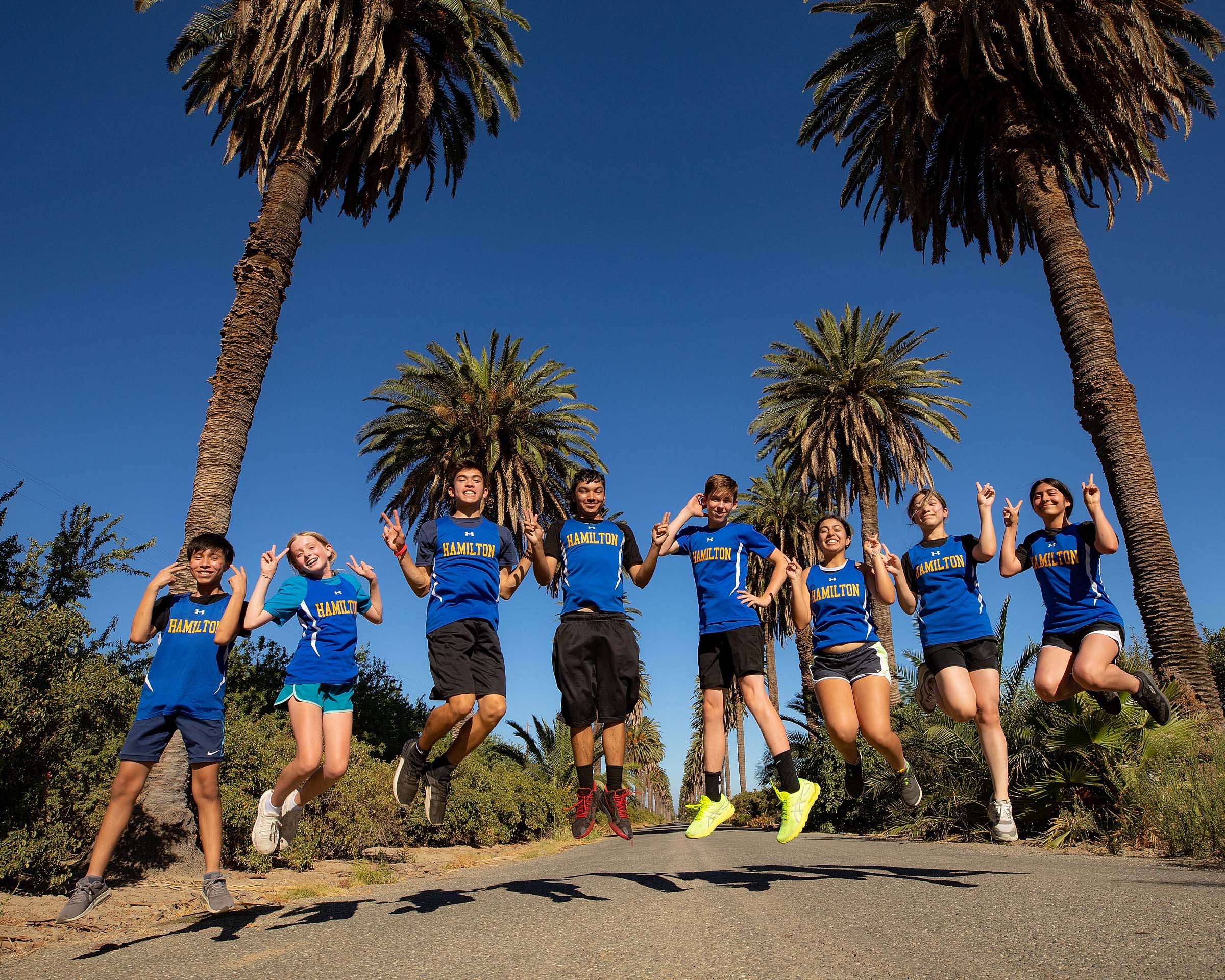 Not only can they run long and hard they can jump too.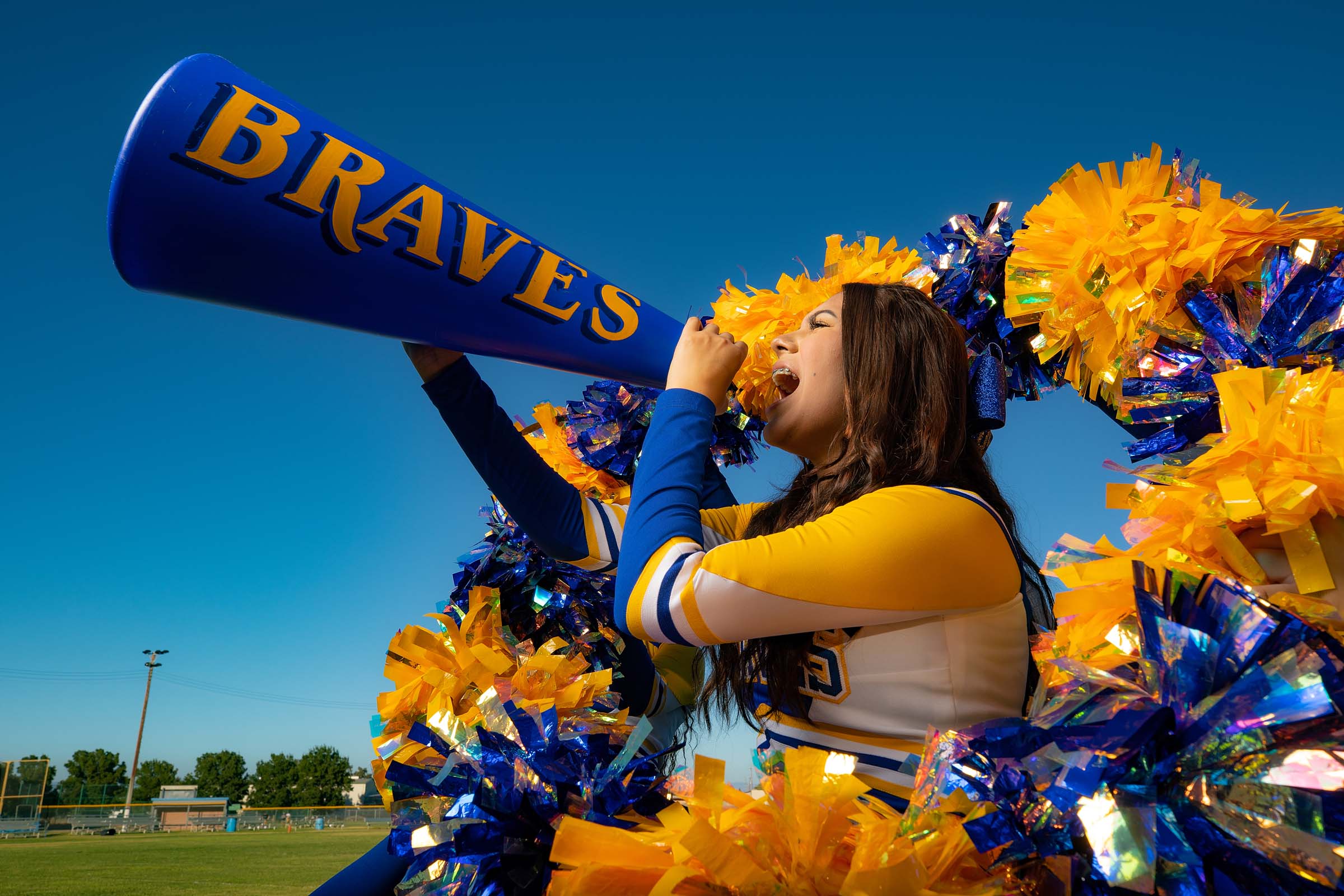 Mia, 12th grade, demonstrates that there is no shortage of school spirit at Hamilton High School.
No high school in the USA is complete without their cheer squad. Their job is not an easy one, especially if their team is down. It's up to them to rally the fans and get their team back in the game. It's also not an understatement to say that is takes a lot of athleticism, courage, and trust to perform many of their jumps, tosses, and kicks they complete during their routines.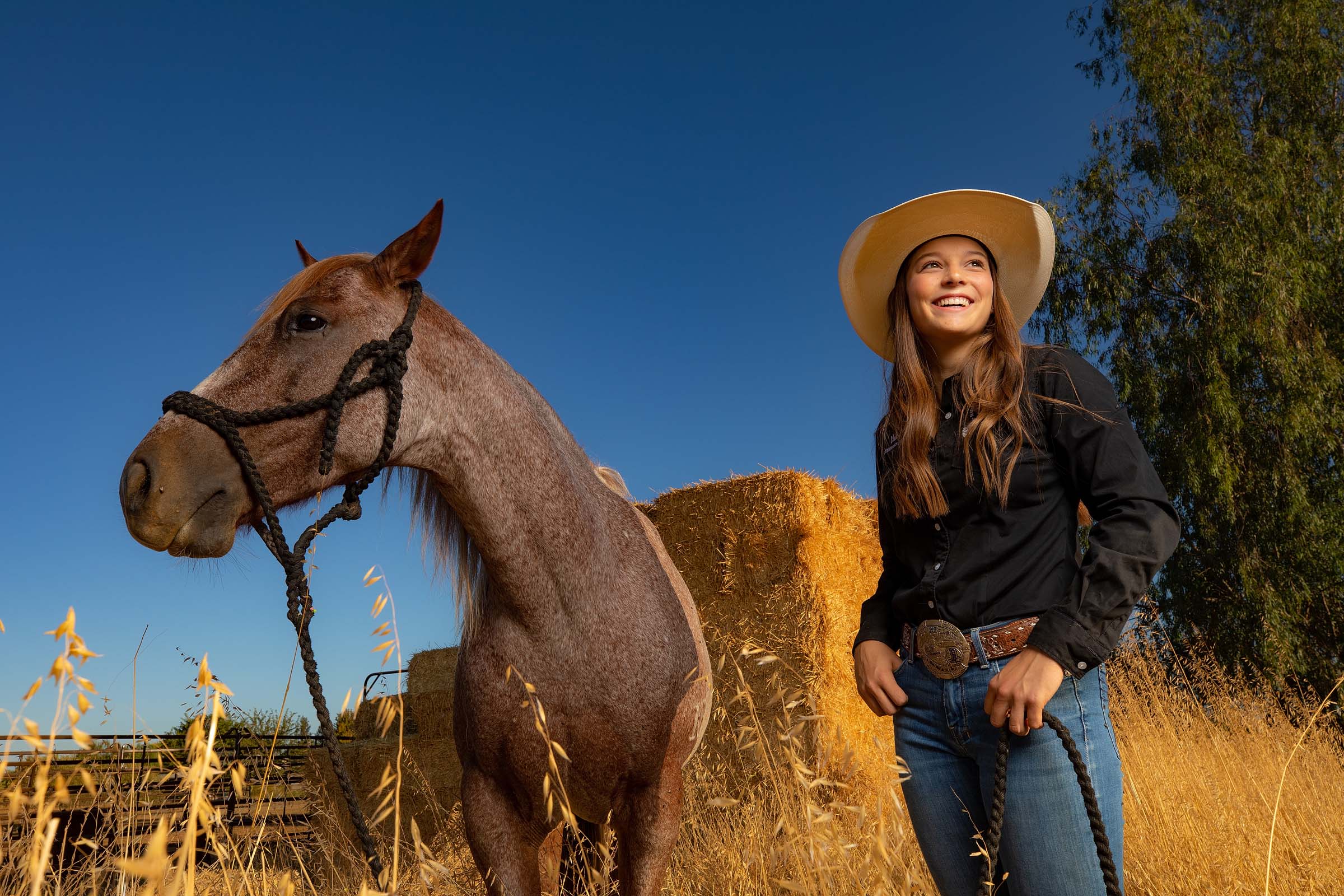 Claire, 11th grade, with Tangy, on her family's ranch outside of Hamilton City.
Our next morning began at the ranch of students Clair and Haden Boles. The brother and sister are big into rodeo competitions and they both have the belt buckles that prove their skills. And despite our early morning start, which also interrupted Haden's morning bird hunting, they were both in good spirits. We began shooting some portraits with their horse, Tangy. The only challenge here was to keep the hungry horse from constantly feeding on the wild oat hay growing just below him. I then decided to do a playful diptych with the story being that while Haden is getting his portrait made his playful older sister would sneak up from behind and rope him. I'm not sure how much Haden actually enjoyed this story line but Claire seemed to love the idea of roping her younger brother.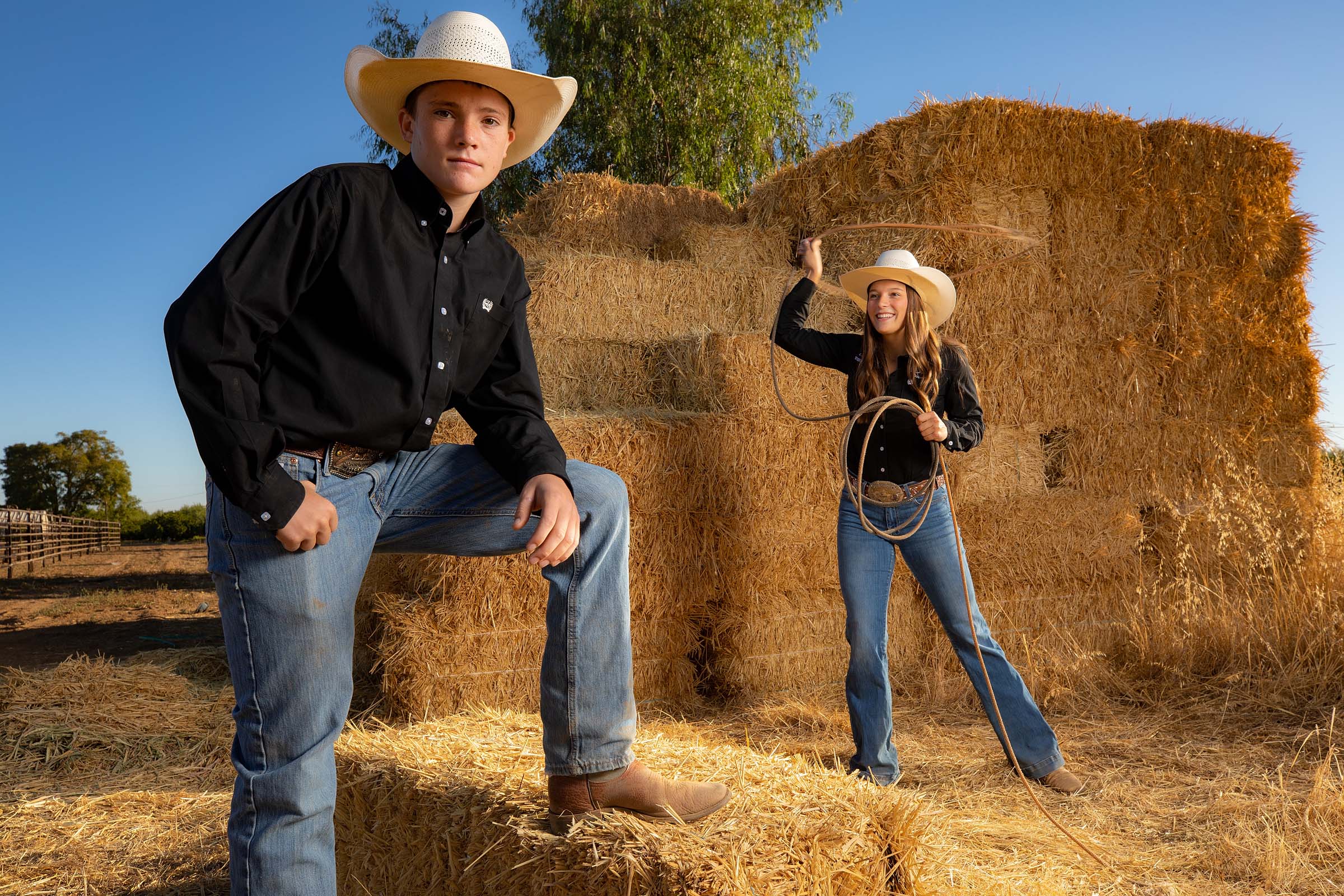 Haden, 9th grade, moments before his sister, Claire, lets her lasso fly.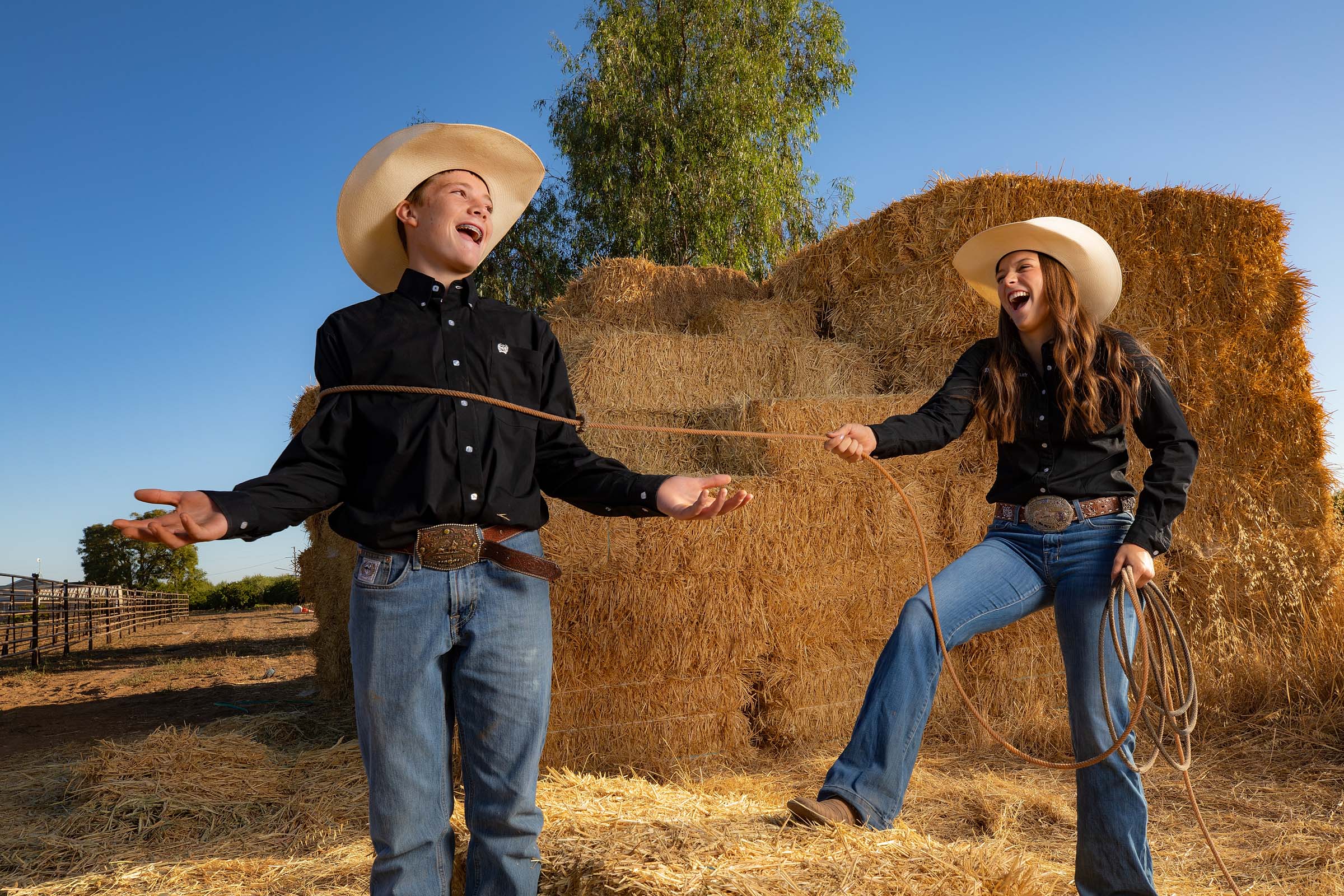 Big sister captures little brother.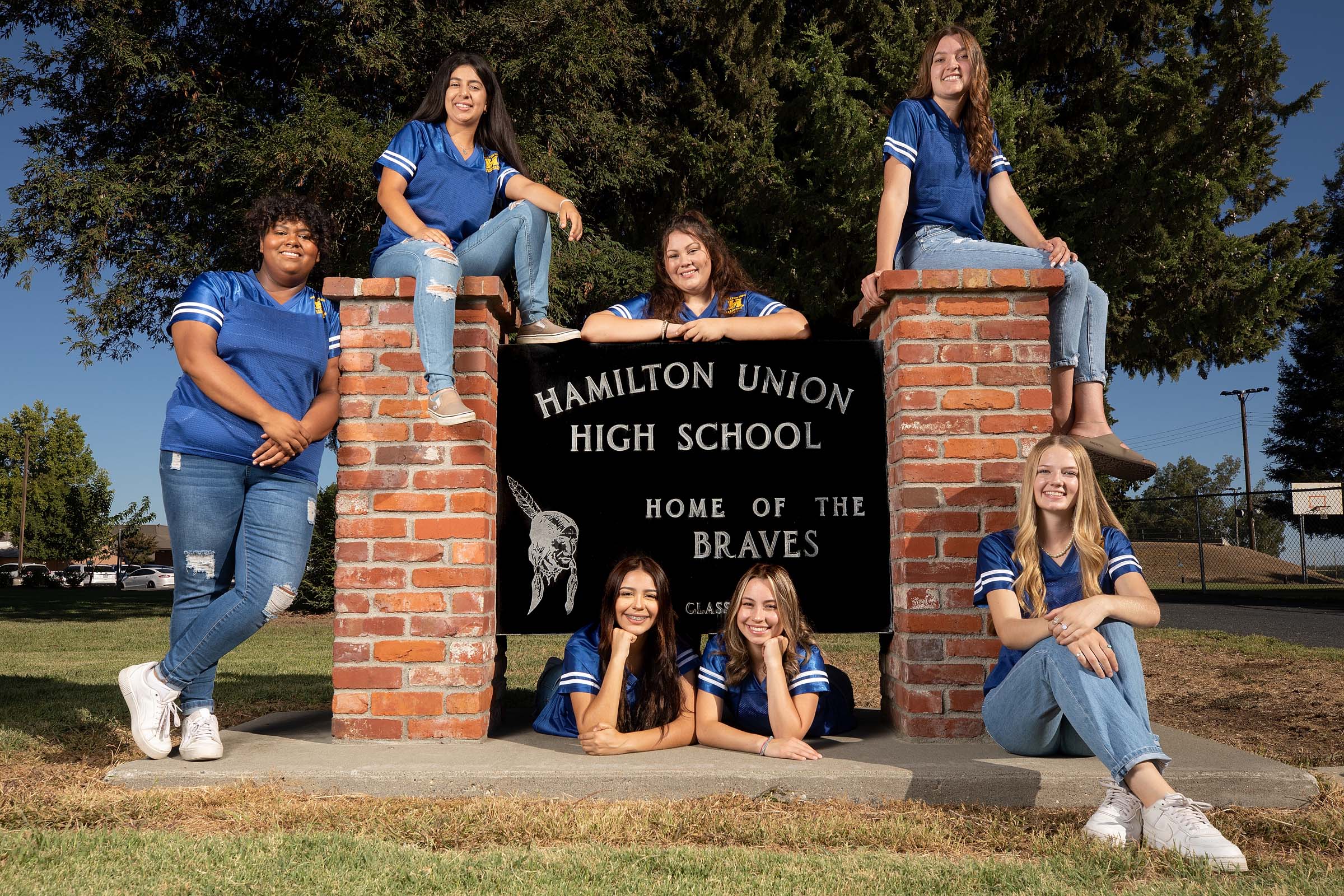 ASB officers, (left-right) 12th graders Niya, Yuri, Mia, Alyssa, Unique, Crystal and Hannah, 11th grade.

Back on campus where I met up with the school's student body officers. They were all agreeable to pose in a variety of places around their school sign.
Following that we met up with Anai, who had been waiting patiently the day before for her portrait. Anai represents CSF (California Scholarship Federation) which recognizes students that are both high achievers academically as well performing a great number of public services. Anai also represents MEChA, a Hispanic organization that promotes cultural and historic pride through education and political involvement.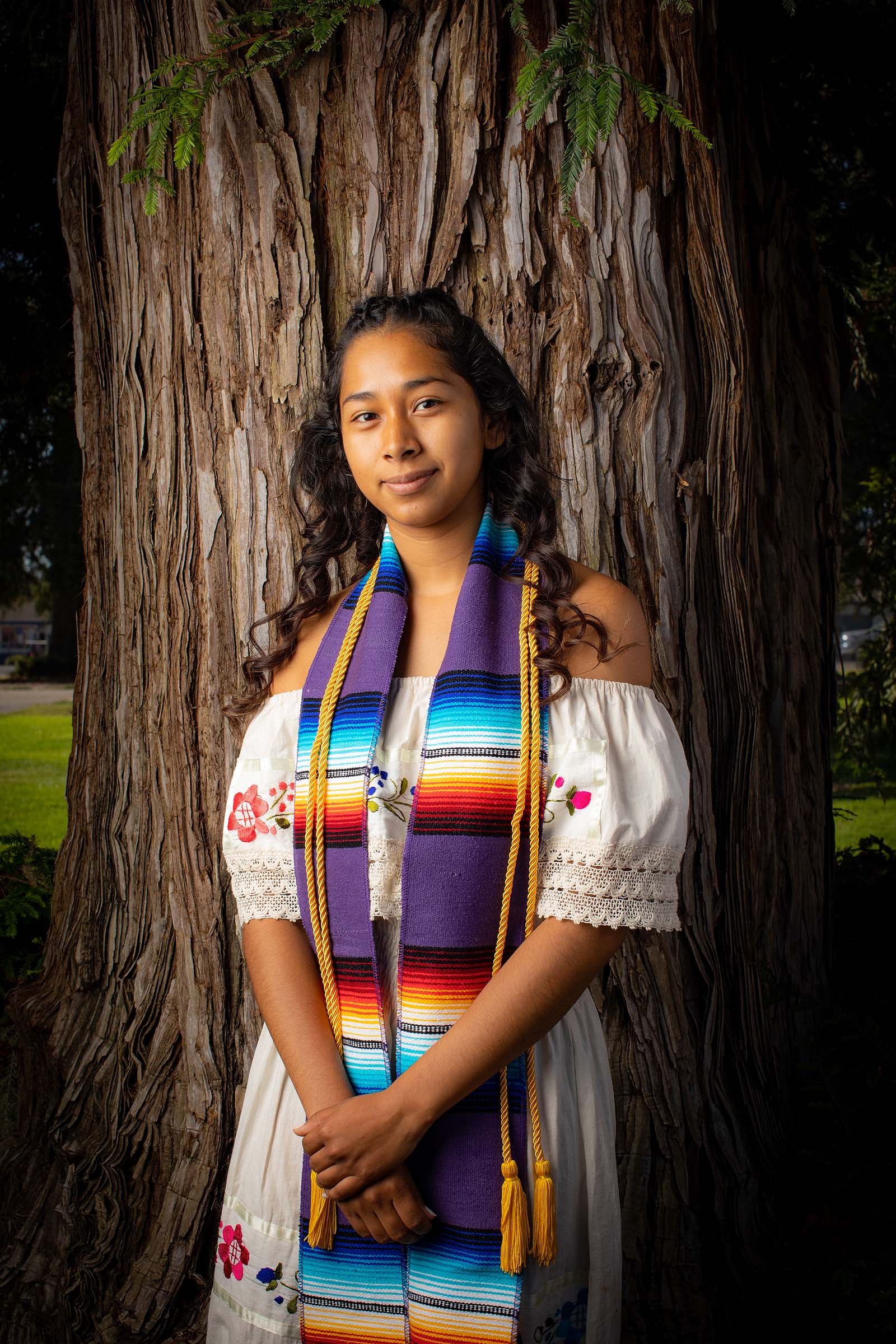 Anai, 12 grade, representing CSF and MEChA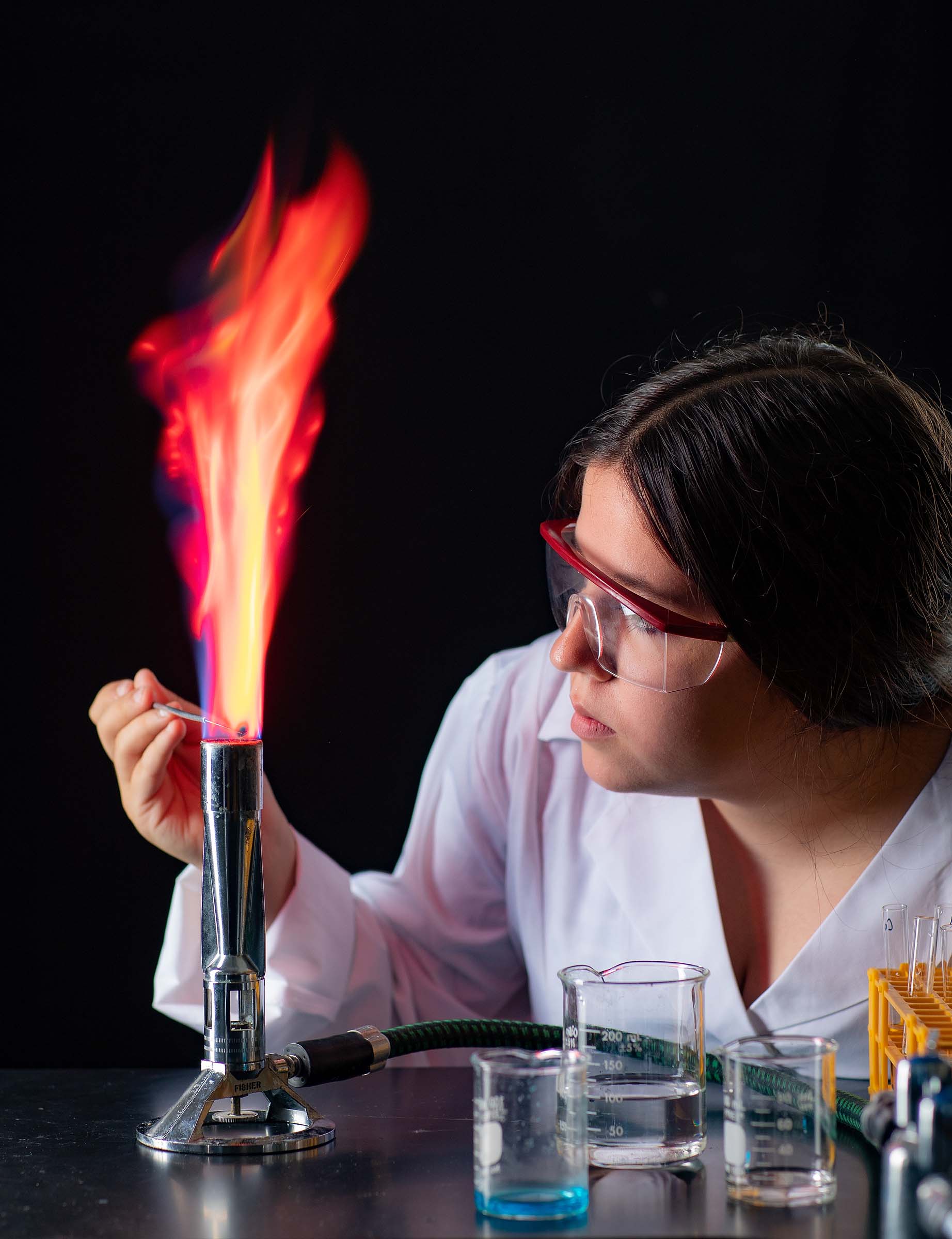 Xiomara, 10th grade, experiments with fire in the school's science room.

On my list of subjects was also a science class. On this particular day the teacher, Susan Song, had the students observing how various chemicals can change color when introduced to a flame. Our young scientist for this shoot was Xiomara, 10th grade.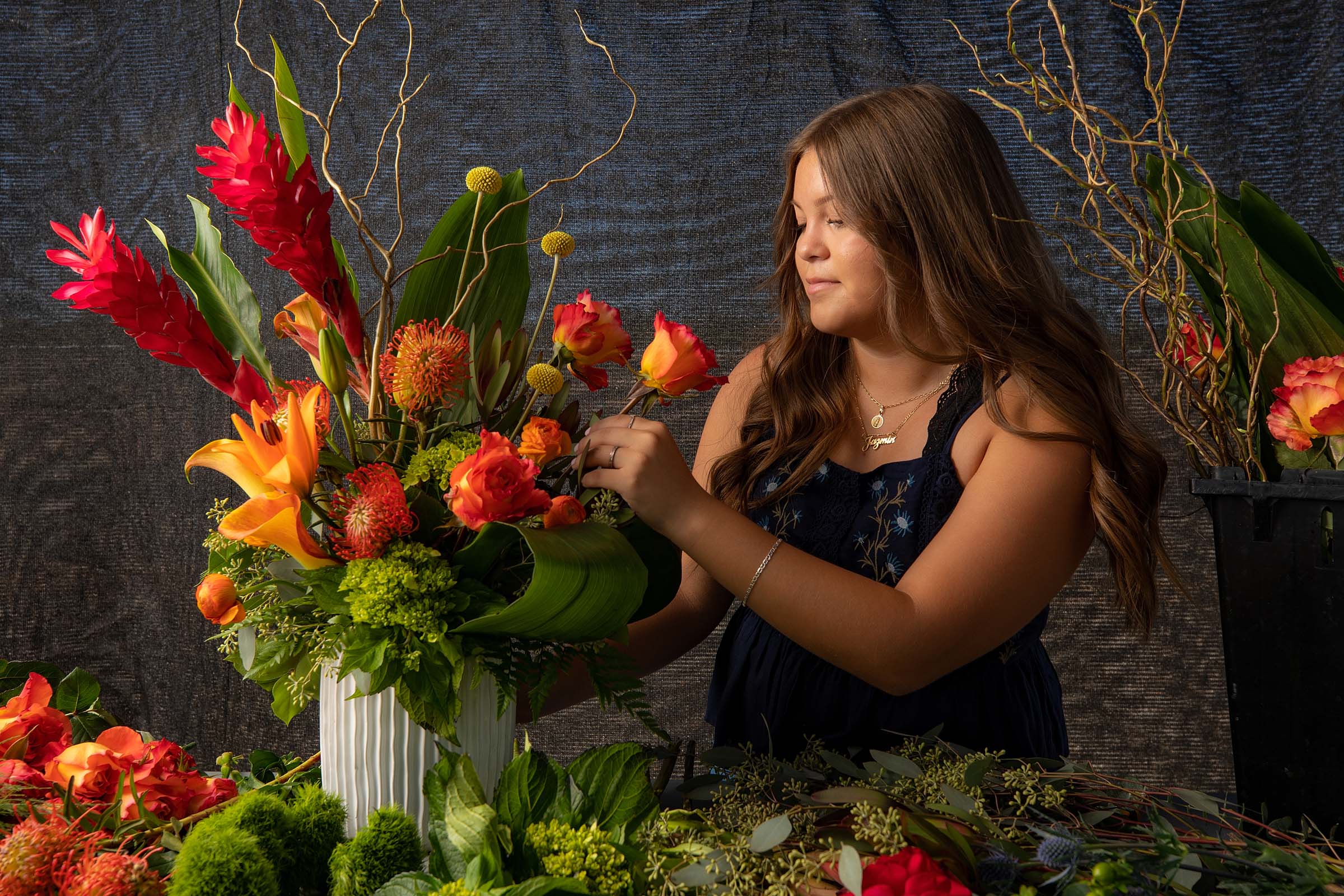 Jazmin, 11th grade, working on a floral arrangement.
The Hamilton High School ag department offers an impressive array of course study and projects for students to experience. Like many high schools across America agricultural education is closely linked to the FFA (Future Farmers of America) organization. The school's ag department also has the equipment and infrastructure which includes a state of the art pig barn, a large indoor sheep shed, a welding shop, a greenhouse, a mandarin orange orchard, an olive orchard, tractors and other equipment related to farming operations, as well as a walk-in refrigerator for flower storage for the program's floral arranging class. In addition they also have an ultrasound device which allows students to observe and monitor the development of livestock gestation.
As mentioned the FFA plays an integral part within ag education. Through the FFA students are presented with opportunities that range from animal husbandry to field crop projects. Additionally students can study a variety of subjects ranging from agronomy to biology to public speaking as well as accounting, web design, parliamentary procedure, and many more subjects. It's schools like Hamilton High School that make all these opportunities available to their students.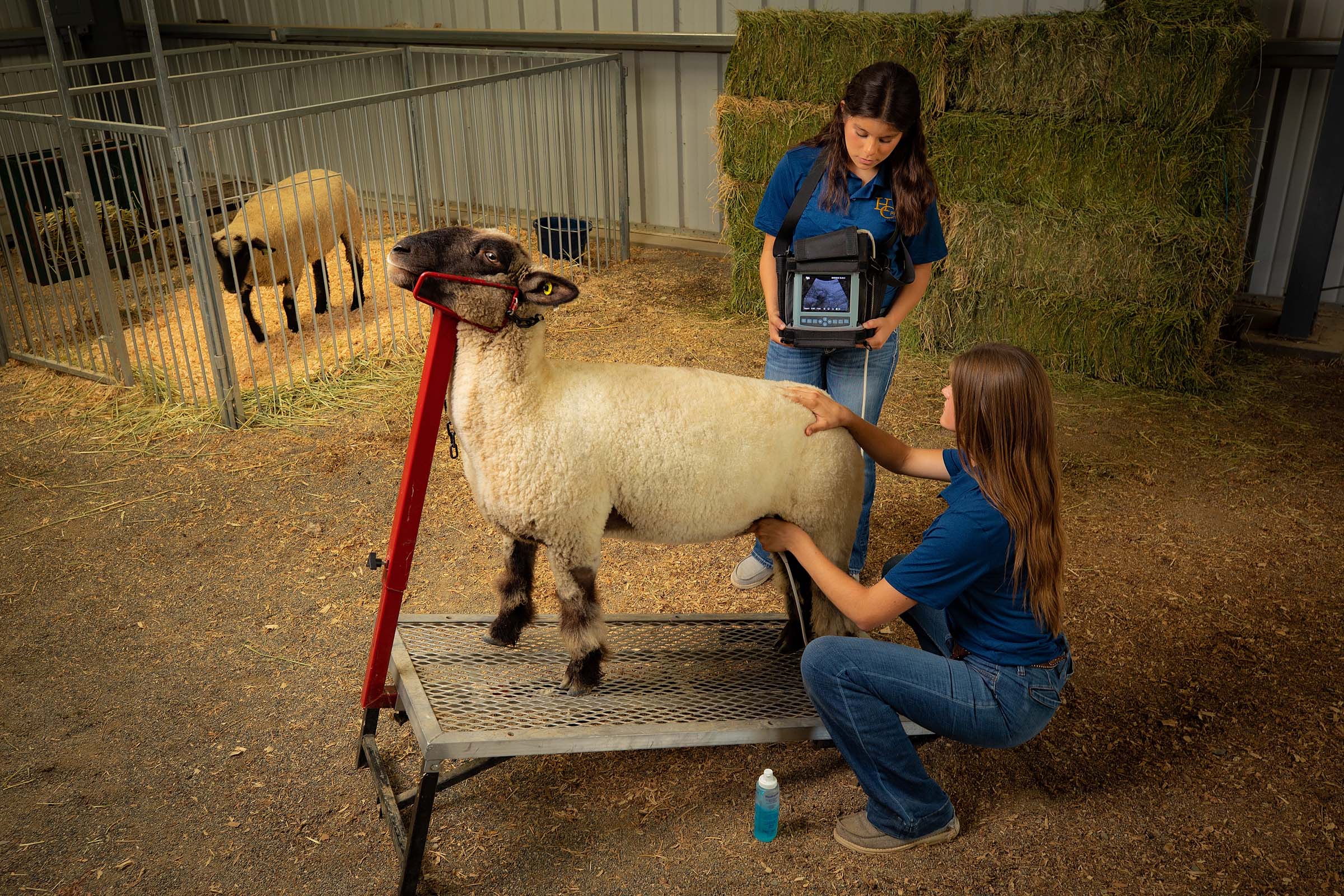 12th graders, Ximena and Kate perform an ultrasound on a pregnant ewe.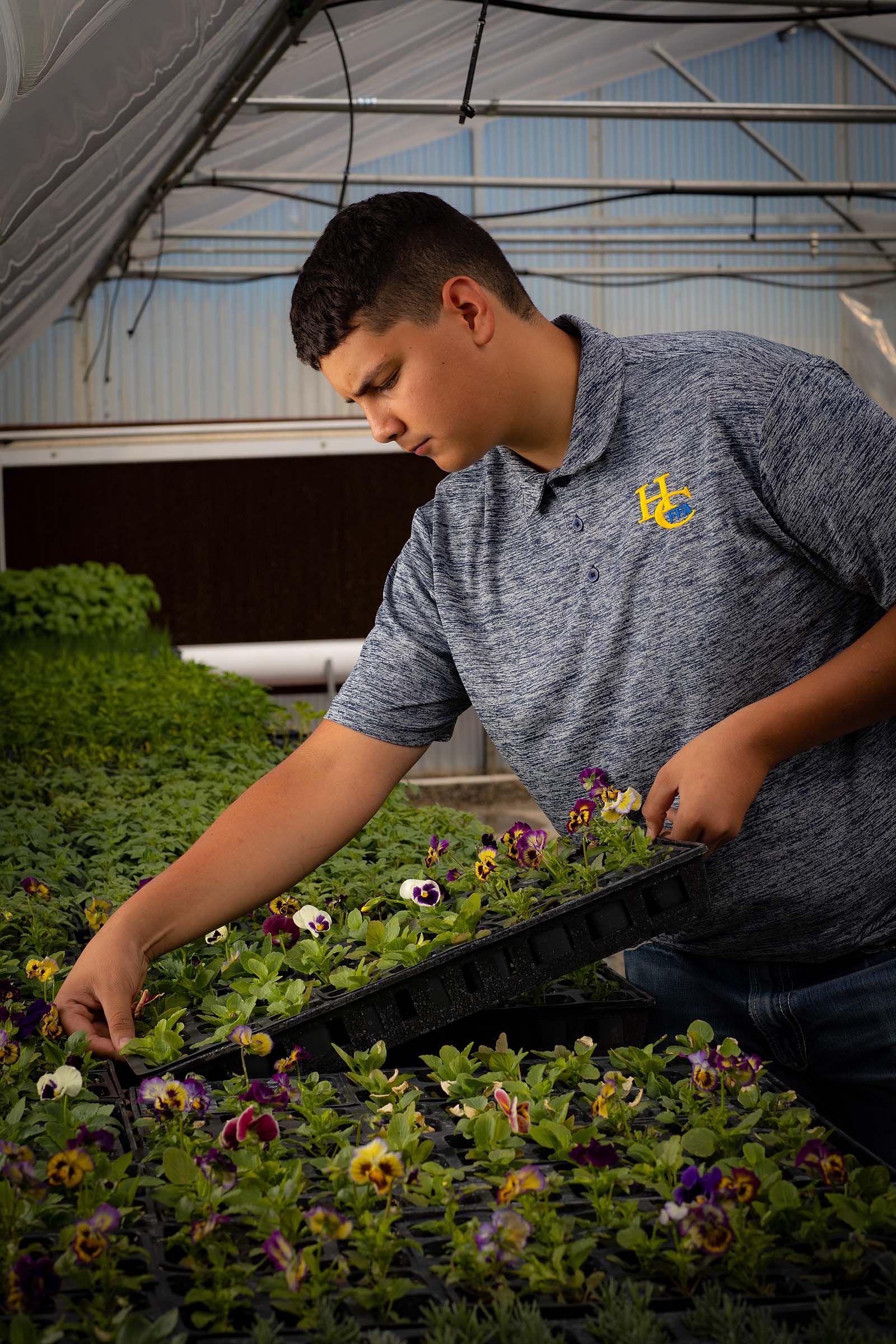 Kyene, 11th grade, in the school's greenhouse.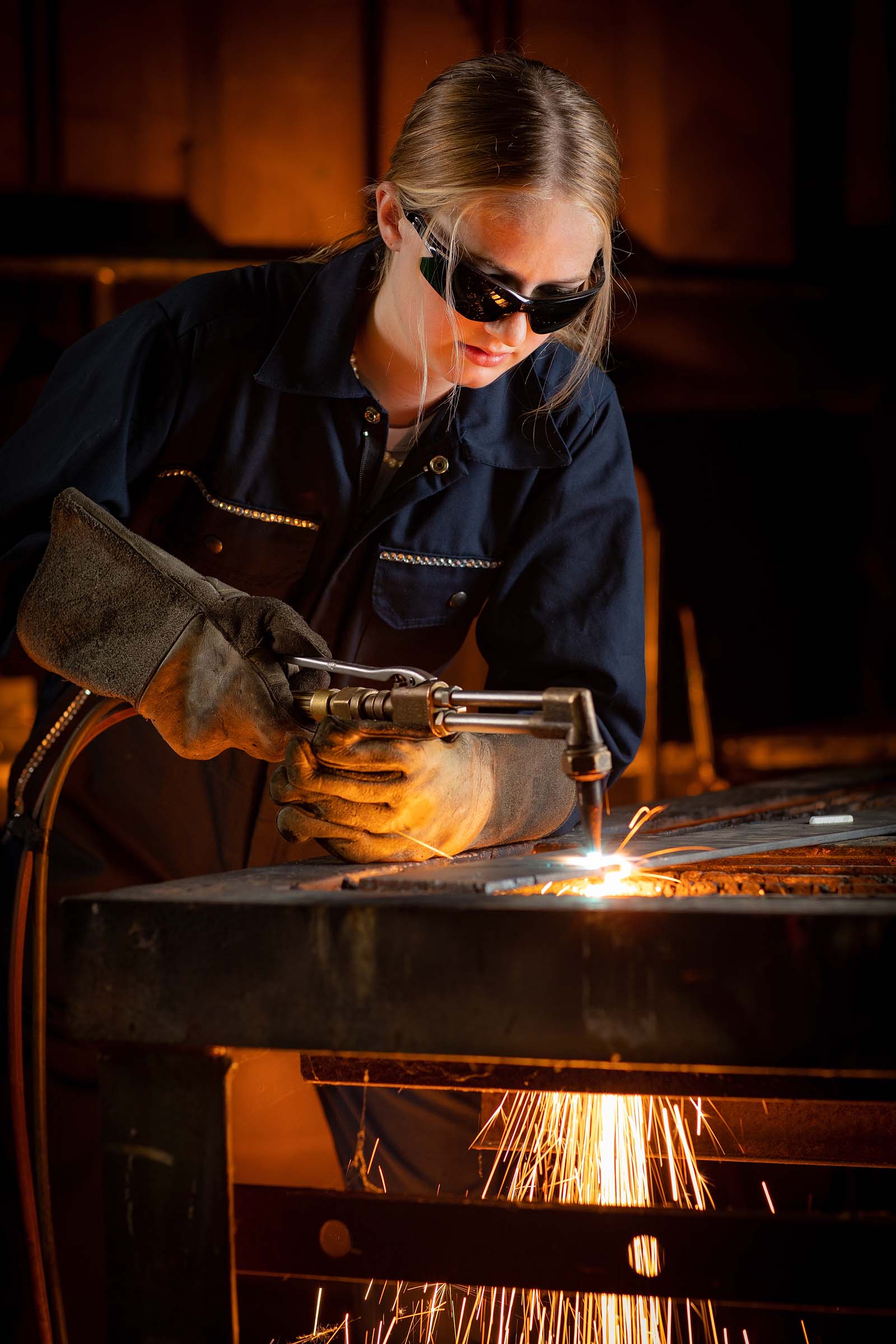 Hanne, 11th grade, cuts through a piece of steel in the school's welding shop.
When I learned that I would be photographing a female student, Hanne, in the welding shop and that she had a keen interest in fashion design I approached her the day before to discuss the shoot with her. I told Hanne that if she wanted to express her fashion side in the photo to feel free to do so. I said to think "welding-chic". So for the shoot she showed up wearing a pair of blue coveralls adorned with rhinestones as well as a pearl necklace. The effect was subtle but helped bring out a bit of her personality.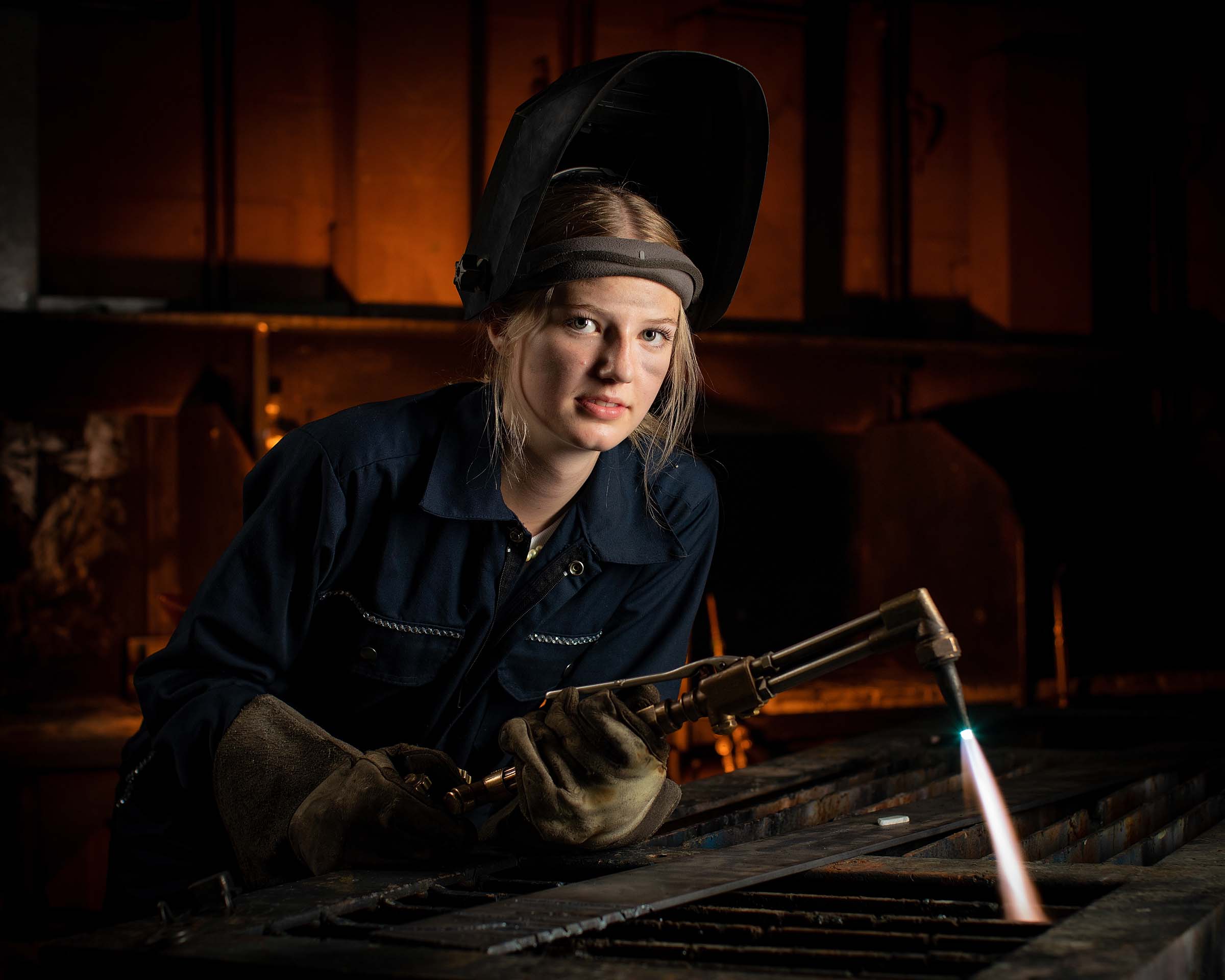 Hane, 11th grade, a young fashionista, but also perfectly comfortable with a welding torch.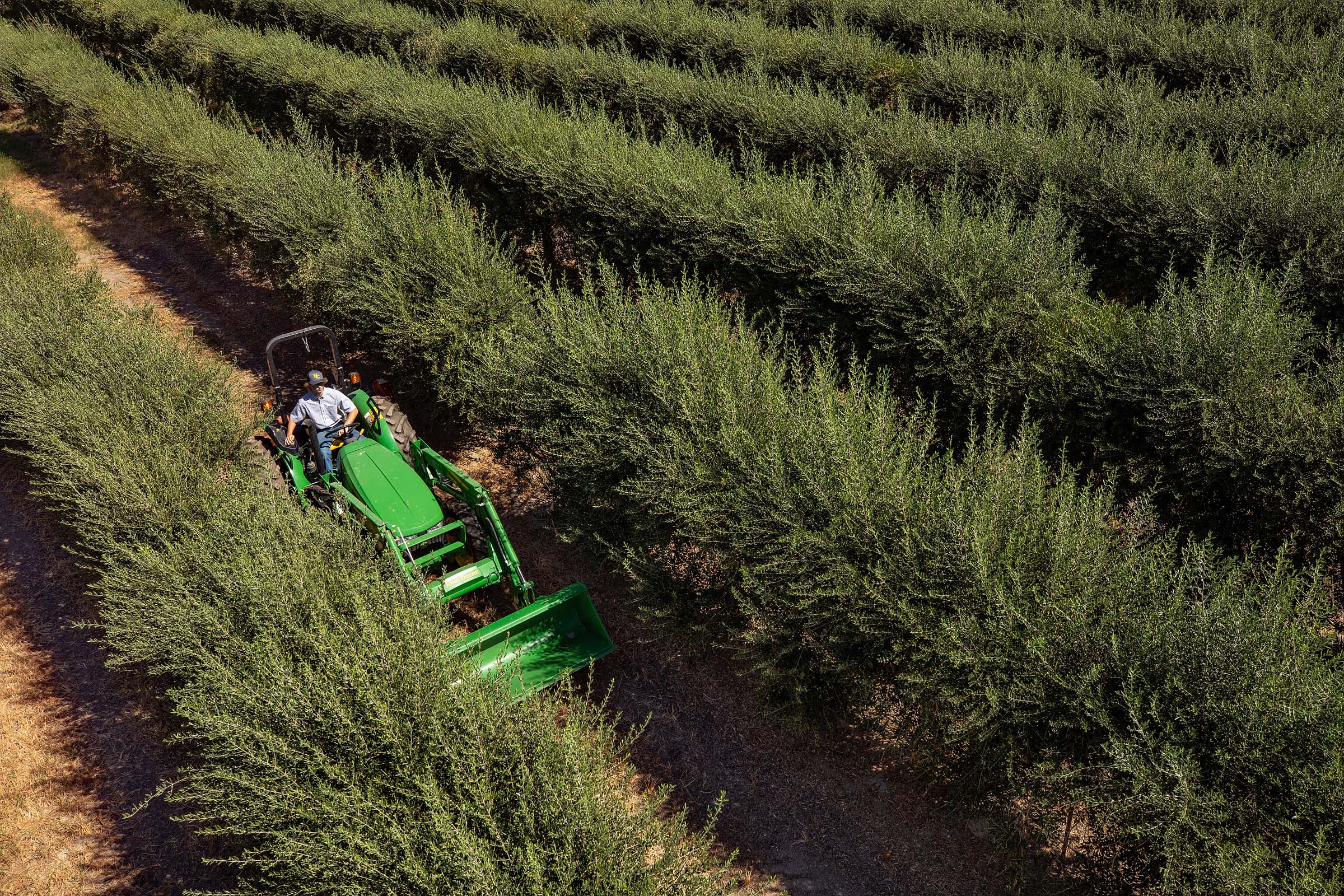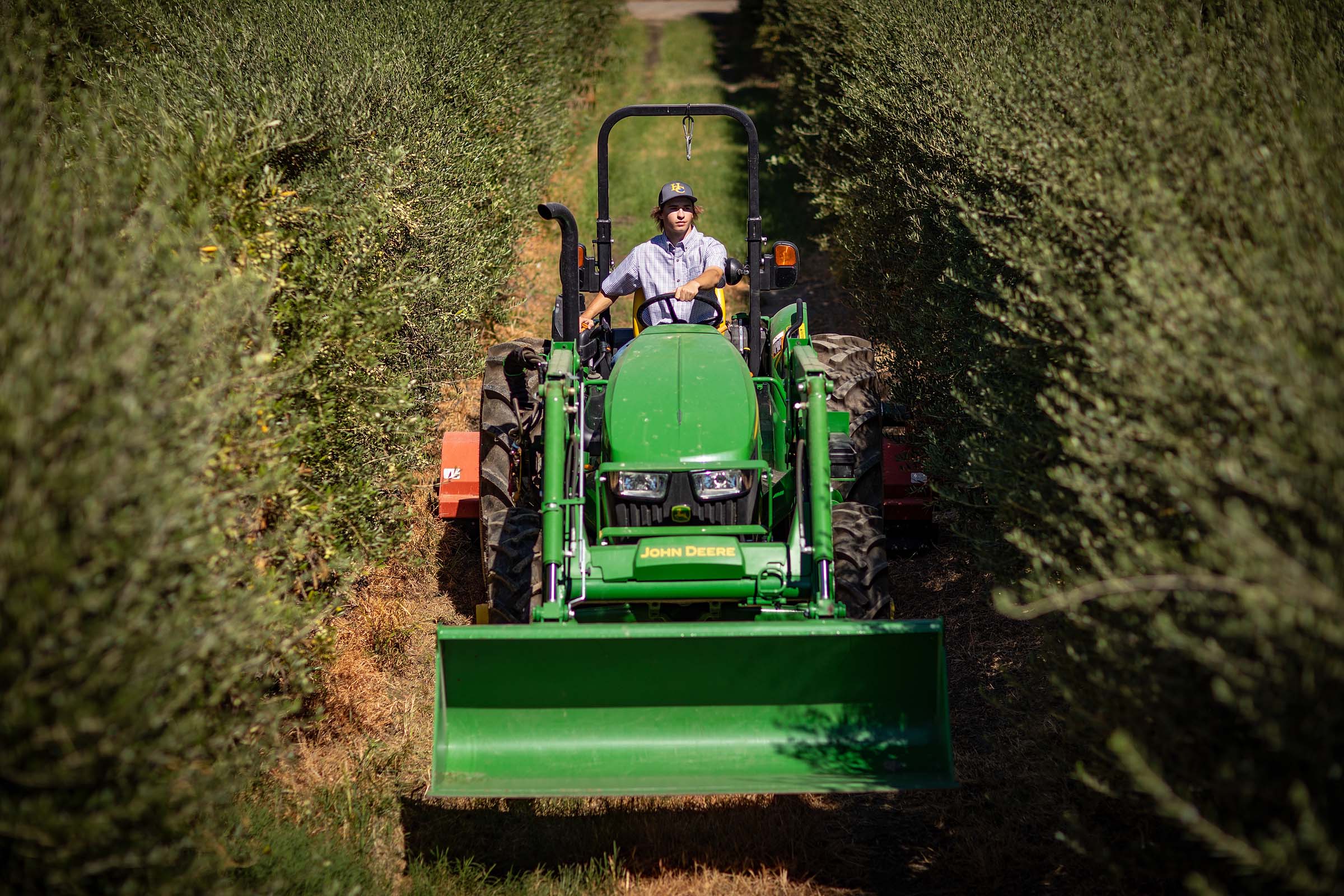 Dillon, 12th grade, at work in the school's olive orchard.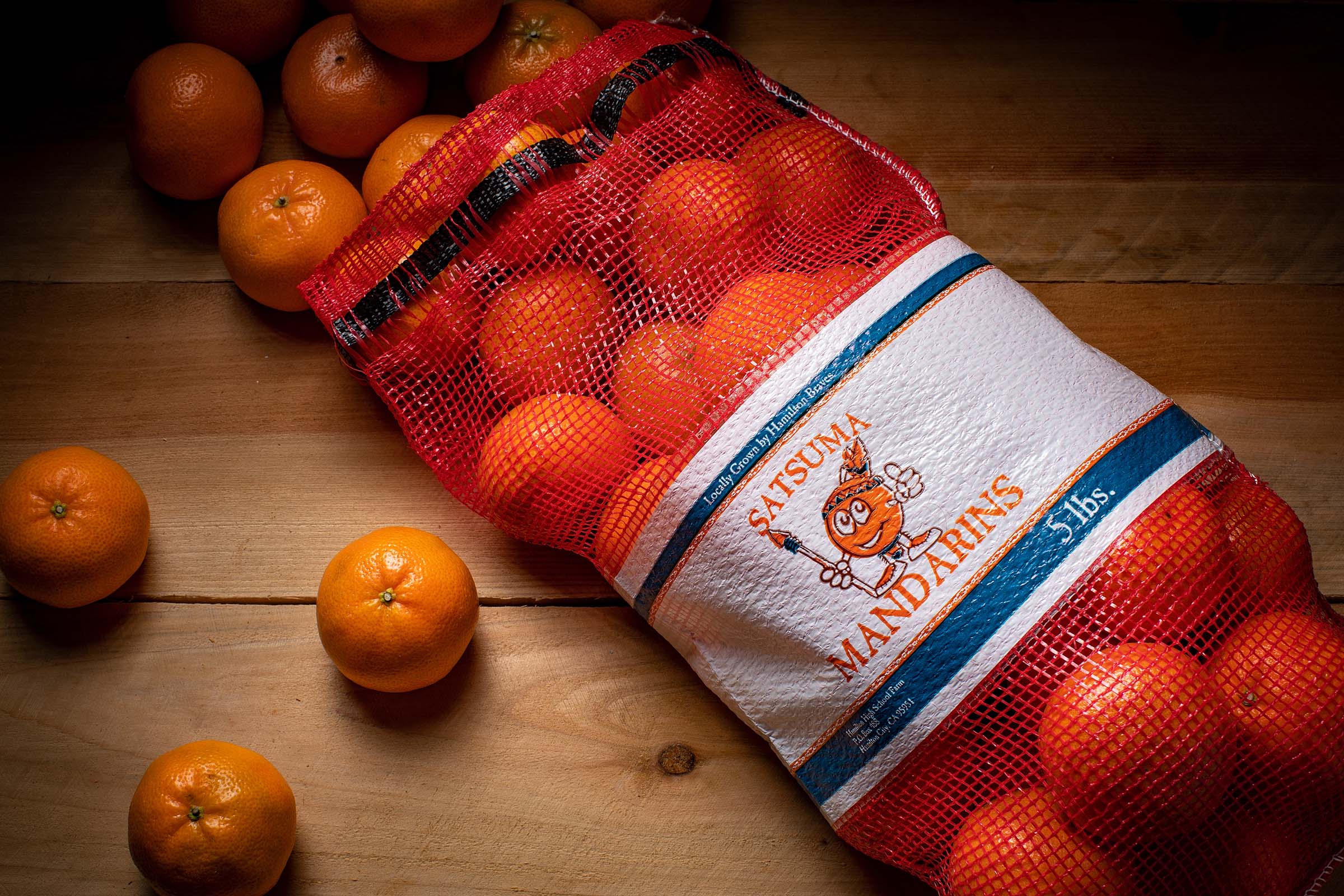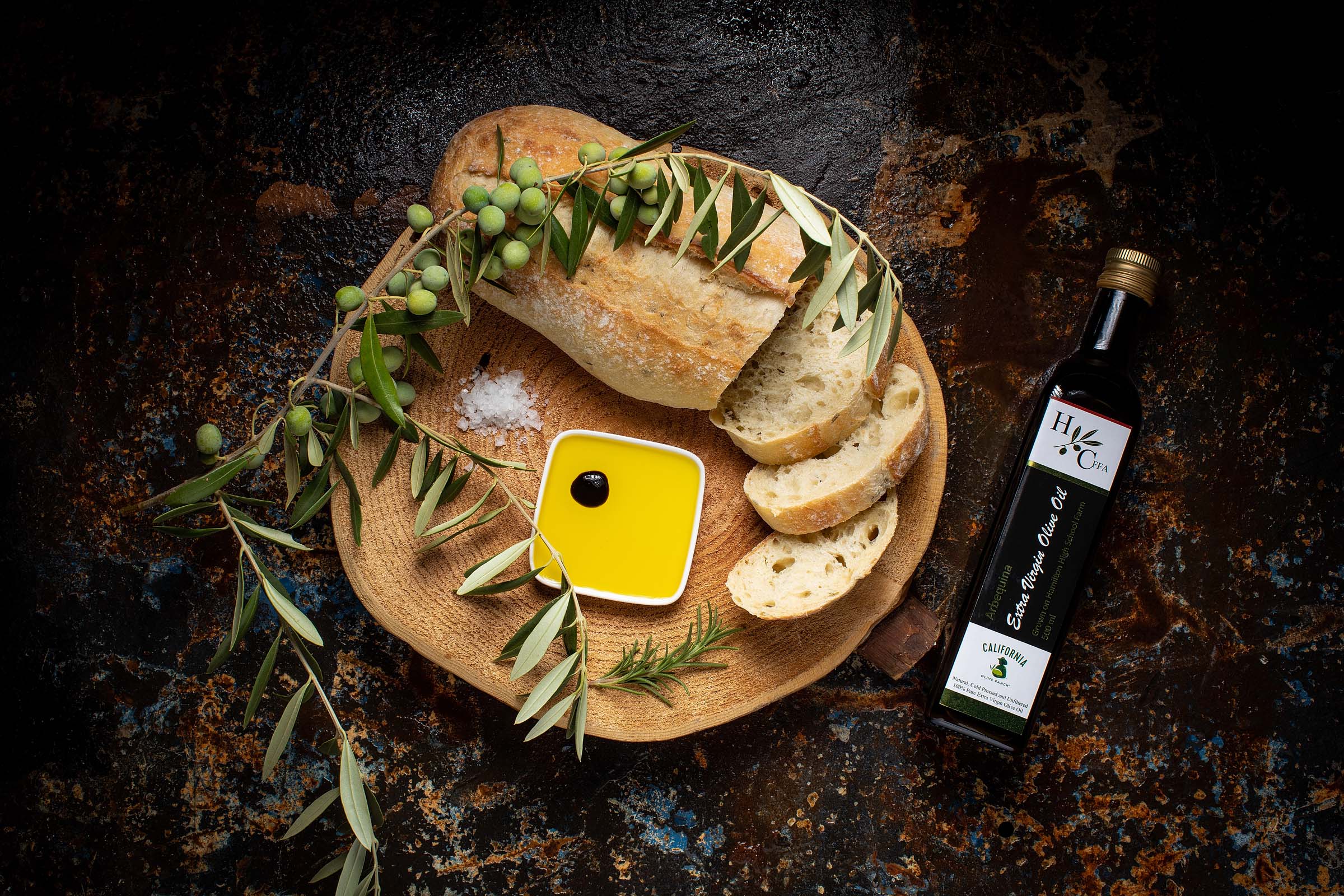 After learning that the school actually generates revenue from both its mandarin and olive orchards it made sense that I should do a couple of shots of theses products. I can personally attest that the extra virgin olive oil is some of the best I've had. I'll be placing an order for next season's pressing soon.