Stepping into Myanmar, also known as Burma, often feels like being transported back in time. Development has been slow in this Asian land which I suppose is what makes it so attractive to travellers. One of the first things you will notice is people wearing their traditional clothing on a daily basis. In much of the world the only time you see people wearing their native dress is at special events or ceremonies. However in Burma it is quite common to see people going about their daily activities wearing their longyi which is a sarong type piece of clothing worn by both men and women.
To continue this time travel experience you can take a ride on The Yangon Circular Railway. Built more than 60 years ago, and with the exception of a few minor changes, the system operates pretty much as it did when it was first built. The tracks run a full circle around the city of Yangon and reach into parts of the countryside where urban sprawl is replaced by farmland. A complete loop will take roughly three hours and cost 200 kyat or about 15 US cents.
Some stations are busier than others depending on their location or their offerings. Some have large markets very close to the tracks.
The trains move slowly from station to station and rarely stop for more than a minute at each station. For those either loading or unloading of goods this means they need to work fast to get on and off the train.
While on the train one never needs to go hungry. A parade of sellers makes their way up and down the cars selling a variety of Burmese snacks. None of which I tried.
At certain times of the day and depending on the location the cars can be almost empty of passengers and the slow pace of the train can give some a change to relax and just enjoy the view out the window.
At a certain point along the route the train finds itself leaving the city and enters farmland just on the outskirts of the city. Technically the entire route is within the city of Yangon so one could easily see this farmland consumed by urban development in the near future.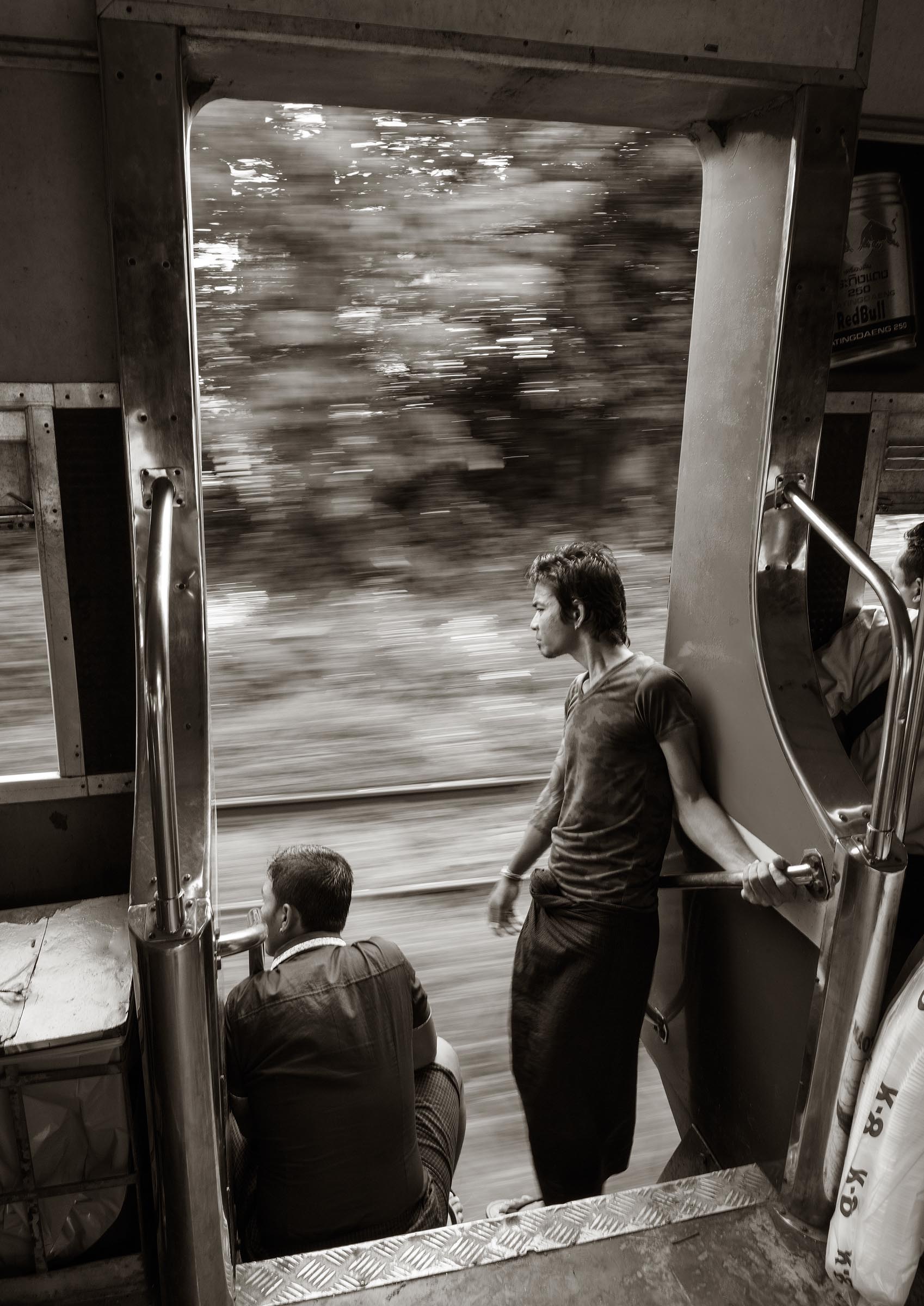 In just a few years we may see a complete overhaul of this circular railway in Yangon. The government has plans to modernise the system which would most likely be welcomed by those that travel the line everyday.
All photos by David Hartung © 2017.